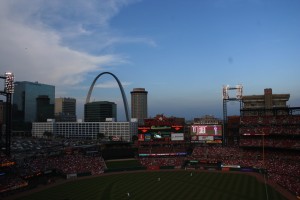 I love to travel, seeing new things, new places, new people and trying new food! I thought I'd share some of the great places that I've had the privilege of visiting; some that may be close to home and some a little further away.
So, I'm launching the new segment today I'm calling Vivacious Vacations, where I'll feature a place (city, town, country, beach, campground, etc.) that I enjoyed so much and think you might as well! Some were just weekend trips and others were weeks long. I'll show you the great things to see, to do, and to eat!
For our first Vivacious Vacation I'm featuring St. Louis!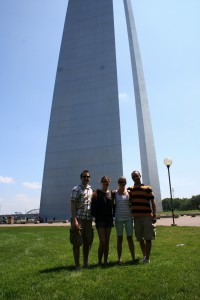 Why I'm featuring St. Louis?
Both my roomie from college and my husband's roomie from college live in St. Louis. A group of us decided we didn't want to lose touch so we decided that every Spring us northerners would take a long weekend trip down South and every Fall the southerners would trek up North.
I've driven through St. Louis at least 20 times and never really stopped to explore the city. So this trip last Spring was full of the locals showing us the ropes…my favorite way to explore a new place! So, here's St. Louis!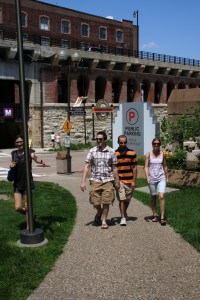 Having loved and studied so much architecture, St. Louis is a city that excites me with its rich architectural history. The city is filled with beautiful brick buildings that scream craftsmanship long gone.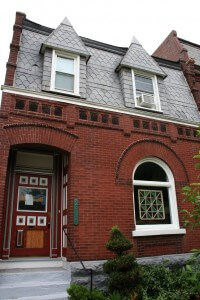 My college roomie, Shelly, and her hubby, Andy, live in a piece of history in downtown St. Louis. This beauty above is where they call home. It dates back 150 years, built by a man who was a doctor in the civil war. Stay tuned for a future post where I'll feature Shelly and Andy's gorgeous historic home, so you can see what they've done with the place!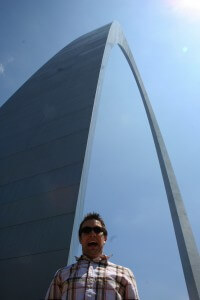 The first stop in St. Louis seems to naturally be the Gateway Arch. Towering 630 ft above the banks of the Mississippi River, it was built as a symbol of Westward Expansion. Designed by architect Eero Saarinen, the monument was completed in 1965 and is open to the public.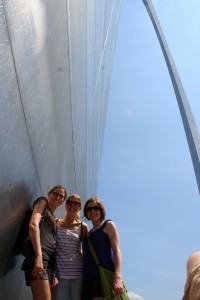 Yes, that's right, you can not only hang out at the base of the arch, but you can ride in a little cart to the very top!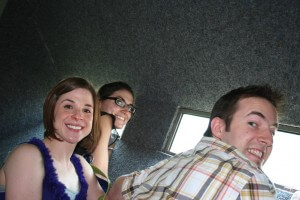 Overlooking: One of my favorite things to do in any city I visit is to trek to one of the highest points in the city to overlook from a bird's eye view. It gives a visitor a totally new, bigger picture, perspective of the city. The view from the top of the arch does just that!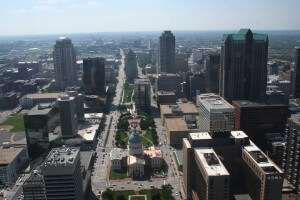 I know you competitive northern baseball fans will cringe, but I highly recommend visiting a Cardinals' game at Busch Stadium when in St. Louis.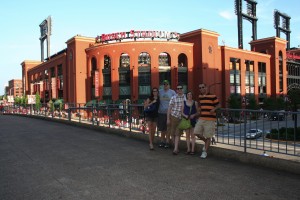 Its not only a great sporting event, but the view of the city from the stadium is beautiful!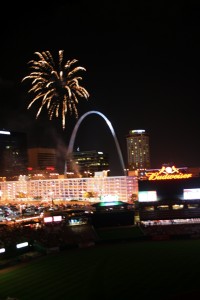 And the fireworks show is stunning…added entertainment to the evening!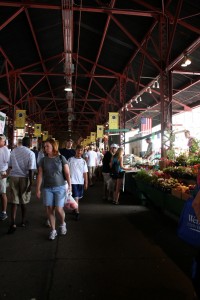 One of my favorite things we did in St. Louis was visiting the historic Soulard Farmer's Market. This year round farmer's market is one of the oldest farmer's markets west of the mississippi with its first structure dating back to 1843.
www.soulardmarket.com/soulard_farmers_market_003.htm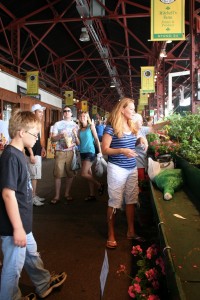 The market is not only filled with beautiful sights, but the sounds of the local street performers makes for a lively atmosphere and great music!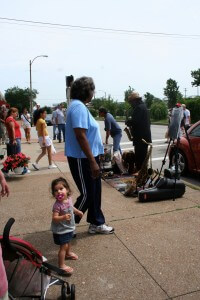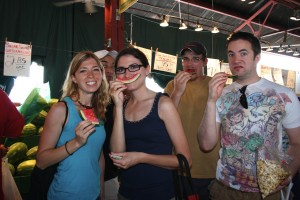 With aisles and aisles of local fruits, veggies, flowers, meats, cheeses, breads, pastries, snacks and lots of samples it made for a fun afternoon of food a local flavor. And by the end of the visit we had enough food to cook up a tasty dinner made from all fresh local produce.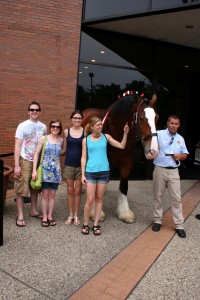 I love finding free things to do in cities and St. Louis has plenty of things to do for free. The Budweiser factory is located close by Shelly and Andy's house, so they knew that on certain days you can go get your picture with one of the Budweiser Clydesdale's.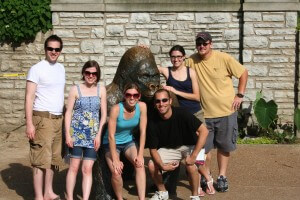 Another free activity in St. Louis is the zoo. That's right the zoo is free and a great way to enjoy the beautiful warm Spring weather in the city!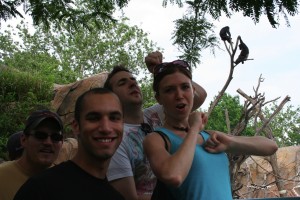 Another site to be seen just outside the city in a suburb called St. Charles is New Town.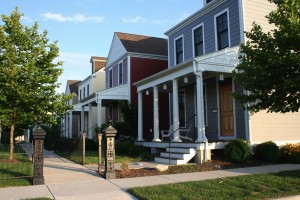 Take a step back to the ways city once were designed. You may think you're in Mayberry, visiting this pocket of the New Urbanism architectural movement in the middle of a corn field.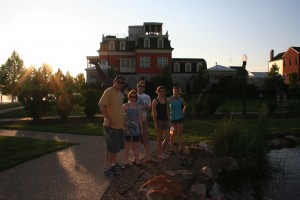 New Town was developed by the world renown architectural firm DPZ. It brings back the traditional city planning methods of walkable cities with town centers.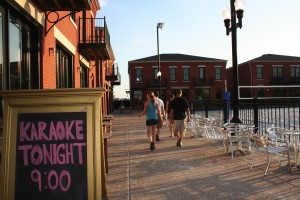 This town scientifically blends various forms of residential, commercial, and municipal buildings.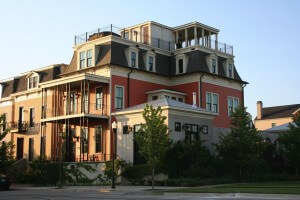 Most of the properties in the town go for hefty price tags, but the architecture and town itself is pristine. I have to admit that I love this architectural movement, but the town felt a little like I walked in the movie Pleasantville.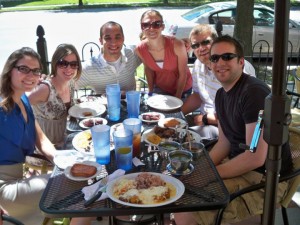 What to eat in St. Louis? While in St. Louis we visited local restaurants that represented the melting pot that is the U.S.A., trying both an Indian Restaurant (I've always loved Indian food) and Nicaraguan Food (a new thing for me that I loved). Even with my restricted diet I had plenty of options at both places. They were both delicious and both restaurants are run by natives of the country their food originates from. You know it'll be good when the recipes are things the owner's grandmother used to make!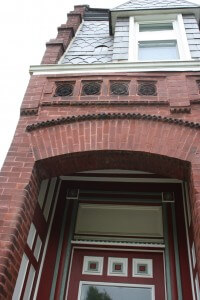 I hope this tour of St. Louis gives you a little insight into the sights, smells and sounds of this historic city's blending of the old and the new. I'll be traveling to St. Louis again this Spring and am excited to bring back and share even more great sights of the city. Have a great weekend…and start planning your trip soon!