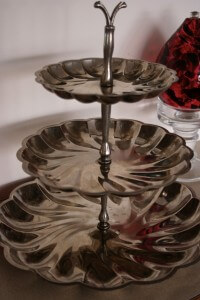 These beautiful tiered serving trays seem to always catch my eye. They're an ode to a time long past when ladies once served mini desserts on tiers at tea parties. You certainly can still use them for that purpose, but let's be honest…
How many times a year do you use it for that purpose?
I often find these beautiful little tiered trays at garage sales and thrift stores. I bought this particular one at a thrift store a few years ago. Honestly, I bought it not knowing what I would use it for, but I found a great everyday use for it pretty quickly.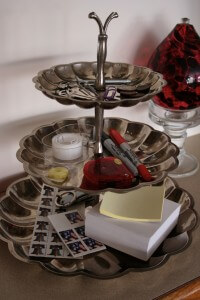 I put the tiered serving tray on an unused are of my kitchen counter near my bar stools and my hubby, Matt, actually came up with a use for it. He started putting his keys, wallet, spare change, stamps, and check book in the tiers. I figured as long as they stay off the counter, I'm a happy camper. So, now this tiered silver serving tray acts as our catch all area. I like keeping post-its and sharpies, tape, tiny tape measures and screw drivers there as well. Its so nice to have all this stuff so easily accessible!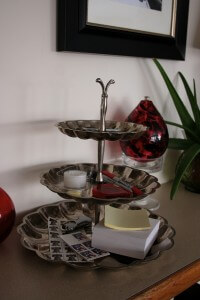 So, this Re-purpose It idea is a little less elegant than placing tiny cakes on the tiers, but at least it gives these tiered trays new life. You can still use them for serving your deserts, but now you have an everyday use for them as well.
My suggestion is to place the tiered tray in a spot in your home that generally collects keys, coins, etc. That way you know it will definitely get good use!