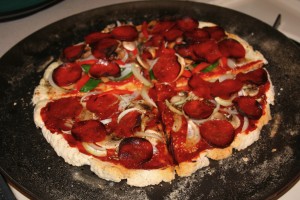 I don't know about you, but Friday nights at my family's house growing up was "Pizza Night!" And it was everybody's favorite.
One of the things I hear people say when they have to go Gluten Free, with head hung low in the most sad voice I've ever heard is, "I can't eat pizza anymore!"(Note: Keep reading even if you aren't GF because this is a great recipe that'll even give regular pizza crust a run for its money)
I'm here to tell you that despite the fact that you can't eat Gluten, Dairy, or Eggs that you can eat Pizza! I know if you're on a restricted diet, you're singing "Oh, Happy Day!" You can buy premade GF pizza crust mixes and I'm sure there are some that are really tasty and I'm all for the convenience factor. But, this is one well worth making from scratch. It's become my favorite and Matt loves it too, even though he can eat "regular pizza."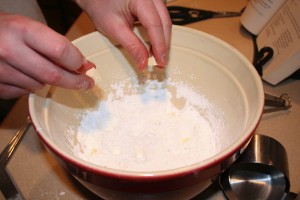 This Quick-Bread Pizza Crust recipe is from one of my favorite Allergen Free Cookbooks.
It's called Cooking Free, by Carol Fenster, Ph.D.
* I generally double the crust recipe. And making this pizza generally becomes not only dinner for us, but we make a night activity out of it, making the pizza then watching a movie while enjoying!
Ingredients:
1/2 cup cornstarch
1/2 cup tapioca flour (I use Bob's Red Mill or Ener-G brand)
1 teaspoon sugar or honey
1 teaspoon xanthan gum (I use Bob's Red Mill brand)
1/2 teaspoon salt
1/4 teaspoon potato flour, or sweet sorghum flour, or brown rice flour (I use whatever I have on hand)
1 teaspoon baking powder
1/2 teaspoon onion powder
1/2 teaspoon dried rosemary
1/2 teaspoon Italian seasoning
2 tablespoons butter or margarine
1 large egg, or 1 tablespoon egg replacer powder mixed in 3 tablespoons water
1/4 cup milk (cow, rice, soy)
Extra rice flour
*A lot of ingredients, but this one is well worth it!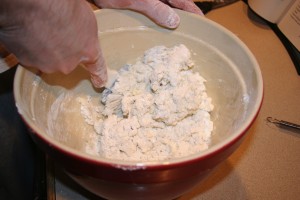 Directions:
1. Preheat oven to 400 degrees. Grease 12 inch nonstick pizza pan (for a thin, crispy crust) or 11×17 inch nonstick baking pan or 10 inch cast iron skillet (for a deep-dish crust).
2. Combine all ingredients except egg, milk, and extra rice flour. I cut up the butter into small cubes and mix with a spatula or my hands. Bled until mixture resembles fine bread crumbs. Add egg and milk and mix until dough forms balls. Dough will be stiff, but sticky.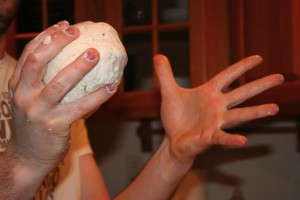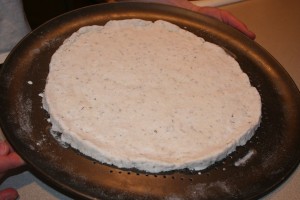 3. Place dough on prepared pan and sprinkle with extra rice flour. Pat dough to 1/4 inch thickness with hands, just up to edges of pan (sprinkling with more rice flour as needed). Make dough slightly higher around outer edge to contain toppings. Bake for 10-15 minutes. Remove from oven and top with toppings. Bake for an additional 10-15 minutes, or until browned to taste.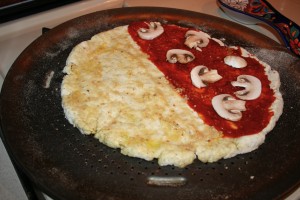 (Watch the pizza develop, the right side is Matt's and the left side is mine)
Ideas to top the perfect Allergen Free Pizza:
First layer> Base: You have to have some sort of base for your pizza. You can use pizza sauce or use (what's become my favorite) blend olive oil and minced garlic and spread that on as a base. (The olive oil and garlic base is perfect for those who cannot tolerate tomatoes). If you can tolerate tomatoes, add a layer of sliced tomatoes on top of the olive oil garlic blend.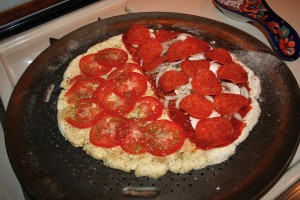 Second layer> Spices and Greens: Next, I like to sprinkle on Italian seasoning or fresh basil leaves. I sometimes add spinach leaves too.
Third layer> Veggies: I then add all the veggies. There are so many different combos you can use. I use what I have in my fridge. Sliced mushrooms, onions, peppers, artichoke hearts, broccoli, whatever else you love!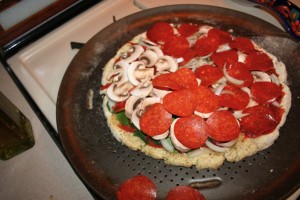 Last layer> Proteins: Last, I add the proteins. If you can eat cheese that's an obvious topping. If you're like me and can't do dairy you could use a replacement cheese like Diayla brand from Whole Foods. You could also use a little goat cheese (use it more sparingly than regular cheese, as it tends to be strong).
Or you can do what I do and go without cheese. This crust has a great taste that compliments pizza without cheese as the onion powder and other spices provide a lot of flavor.
As far as meats go you can add my favorite GF pepperonies (I use Boar's Head brand), or GF Italian sausage. If you can't do processed meats precook chicken, shred it and use it as a topping.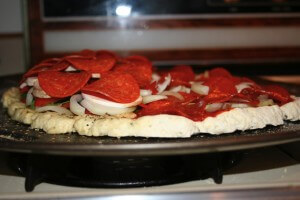 (As you can see above, I like a lot more toppings on my pizza than Matt does!)
This pizza is great as leftovers, heated in the toaster oven!
Hope you and your family can have your pizza night, despite any food allergies! Enjoy!