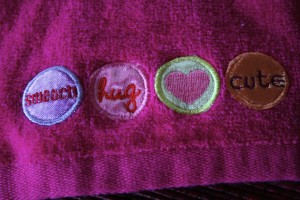 Valentine's Day is almost here! To be honest, its kind of snuck up on me this year. I'm really not into decorating with little paper hearts or anything like that. But I do very much enjoy warm reds and pinks in my home at this point in the year when Spring just seems like it'll never come and white and gray are the only colors outside right now.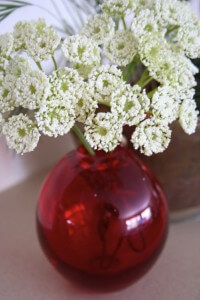 So, here are some of my ideas to make your home feel a little warmer and cozier with the glow of Valentine's Day, without the paper hearts. Here I've just pulled out little things I already have that happen to have a rosie appeal. Hope this will inspire you to pull out the decor you already have that will make your home feel a little more festive.
Above: A red bud vase (gift from my Mom) with faux queen anne's lace flowers. I love the red and white contrast and queen anne's lace always has an air of romance.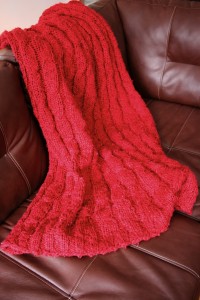 A beautiful red knit throw (Christmas gift from my hubby) encourages a little cozying up on the sofa when its freezing outside.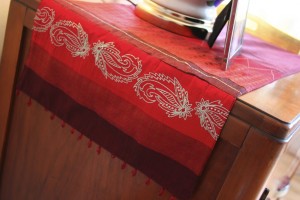 This red table runner sits on my buffet table, adding a little color with its varying shades of reds. The silver paisley embroidery adds a little ethnic flair and sheen.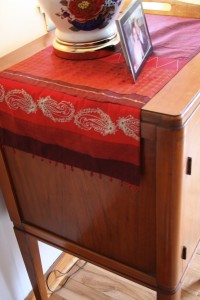 The beads on the ends of the runner add a beautiful finishing detail.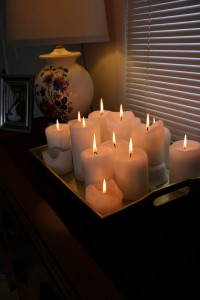 Add a little romance to your home with some candle light.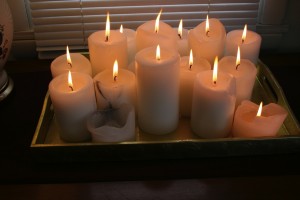 I took a gold serving tray and a bunch of white candles (with varying height) and created this display on top of my buffet table. I let the wax drip as it wants, as I love the warn look it creates.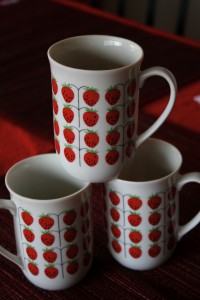 Pull out some of your cute tea cups or mugs. I found these little mugs at a garage sale in a free bin.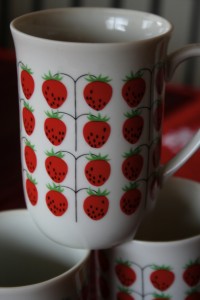 I love the little strawberry details (again they make a nice red against white contrast that can look festive even though they aren't hearts).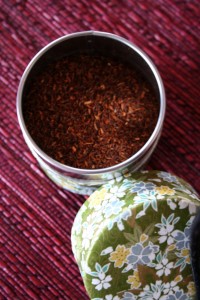 Brew some Roobios Tea for Valentine's Day. Roobios is my favorite type of tea and its so festive as it brews tea that is red in color and full of flavor, not to mention is great for relieving chest congestion and tight lungs. You can buy various Roobios Teas at www.ourspecialtea.com/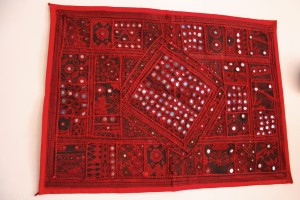 This tapestry (a gift from my sister that she brought back from India) is one of my favorite things hanging on my walls. The brilliant red hugh adds some Valentine's Day festivity, while adding great color to my living room.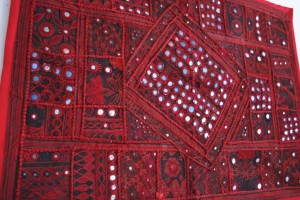 One of my favorite parts of this tapestry are the actual pieces of mirrored glass sewn into the tapestry. I love the little bits of reflection that add such life to the piece.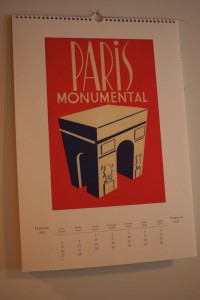 This beautiful calendar features vintage Parisian poster on each month's page. Another "happy" (gift) from my sis, it brings festivity to my kitchen walls.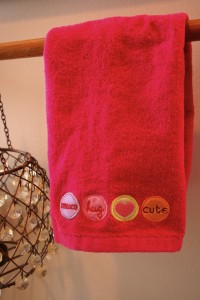 This may be one of the more traditional Valentine's Day decor items I own. A treat from my Mom, this little towel is great to bring a little festivity to the bathroom or kitchen.
I hope these ideas will inspire you to search through your own decor items and use what you have to make your home a little warmer and more festive this Valentine's Day!