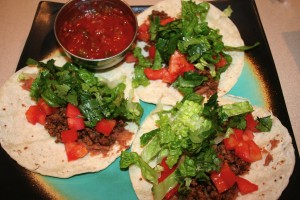 As an adult who has a fairly restricted diet, I can't imagine being a kid or having a child that has food restriction…having to always tell your child "no" or "you can't eat that."
That's why I'm launching this new segment called Kid Friendly Food, where I'll post recipes that'll give you more opportunities to tell your child on a restricted diet "Yes, you can have that."
Although Matt and I eat pretty healthy, that doesn't mean we both don't crave junk food. In fact we passed a Taco Bell the other day and both missed those tasty tacos we once ate. So, I thought we can make those tasty tacos at home and I'll be able to eat them. So, here are our tacos!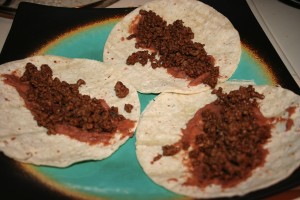 The taco seasoning packets you buy at the supermarket most of the time contain wheat, so Matt and I make our own seasoning in this large batch and keep it on hand, so its ready whenever we want to make tacos.
Here's the Taco Seasoning we make:
1 tablespoon chili powder
1/4 teaspoon garlic powder
1/4 teaspoon onion powder
1/4 teaspoon crushed red pepper flakes
1/4 teaspoon dried oregano
1/2 teaspoon paprika
1 1/2 teaspoons ground cumin
1 teaspoon sea salt
1 teaspoon black pepper
My Taco Ingredients:
Ground Beef
Vegetarian Re-fried beans (I like them because they add a heartiness to the tacos since I can't eat cheese. Add them first without telling your child and see if they'll eat them. They may not even notice.)
Chopped Tomatoes
Chopped Lettuce
Chopped Cilantro
Premade salsa
Corn Tortillas
Corn chips (to eat with tacos)
Kid Friendly Taco Directions:
1. Sautee ground beef, turkey, or chicken in a pan over medium heat, sprinkling with a little taco seasoning. Drain meat.
2. Heat corn tortillas in microwave or in a pan on stove.
3. Heat re-fried beans in pot on stove.
4. Spread a little re-fried beans on tortilla. Add meat, then tomatoes, lettuce, and chopped cilantro.
5. Serve with salsa and corn chips and enjoy!
Next time your child on a restricted diet sees a Taco Bell and like me and Matt says "that looks good" and wants tacos, you can tell them "Yes, you can have that!"
*Note: if corn is not in your diet, you can use large lettuce leaves for the tortilla. Try Boston Lettuce or Iceberg Lettuce. It may be weird at first, but you'll get used to it.