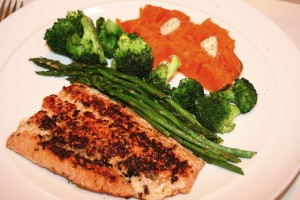 Today I'm taking a Closer Look at one of my favorite proteins: Salmon. There's so many ways to prepare it to enhance its natural flavor and it has great nutritional benefits.
Why eat salmon?
Salmon has an extremely high amount of protein. Its a great source of omega-3 fatty acids, vitamins A, E, folate, and B vitamins. Salmon is rich in minerals such as calcium, magnesium, phosphorus, potassium, and selenium. www.nutritiondata.self.com/facts/finfish-and-shellfish-products/4104/2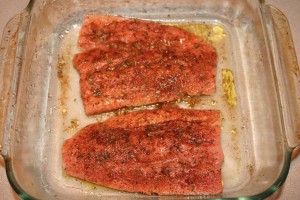 How to select salmon?
I buy wild caught salmon whenever possible. Even if its frozen, wild caught fish is always better than farm raised fish because the fish has been eating what it naturally eats in the wild rather than whatever the farms decide to feed the fish. Thus the nutritional value to you is much better. Look for a fillet that is dark pink or red in color. But, be careful because I've seen that a lot of stores carry salmon that has been dyed red to make it look better (check the label and make sure there are no dyes listed in the ingredients).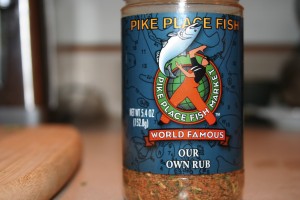 I love to experiment to find new ways to cook salmon and here's one of the simplest, yet delicious ways to cook it.
Ingredients:
Salmon Fillets
Extra Virgin Olive Oil
Pike Place Fish Rub (or other prepared herb rub for fish; supermarkets carry various types)
*This Pike Place Fish Rub is simply a blend of brown sugar, paprika, cilantro, garlic, pepper, onion, salt, and other spices.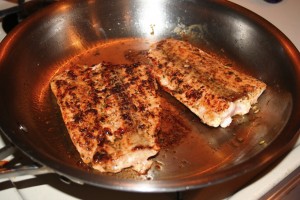 Directions:
1. Rub fish fillets lightly with olive oil.
2. Sprinkle herb rub over fish fillets and pat into fillets. (Be careful if your rub contains salt not to add too much of the rub)
3. Heat some olive oil in a pan over medium heat. Add fillets and sautee until the outside of the fillet is slightly browned; flip fillet and sautee until the other side is slightly browned and center of fillet is just cooked. Serve!
*I served my herb rubbed salmon with half a baked sweet potato with butter and oven roasted asparagus and broccoli.