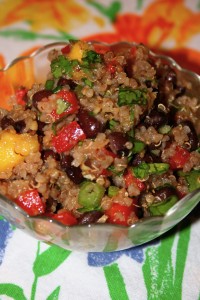 I'm always looking for dishes to make for lunch that are quick and easy to eat on the go. I have to say turkey sandwiches just don't call my name at lunch time anymore. This Quinoa Salad is packed with so many flavors that blend together into this delicious lunch medley.
Need a meal that gives you a break from meat? Packed with protein and fiber? Full of flavor? That doesn't have to be heated when you're ready to eat it?
If you said yes, then this Quinoa Salad is for you! Just make it the night before and pack individual serving sizes into containers in your fridge and grab it as you head off to work in the morning. Store in the fridge and enjoy for lunch!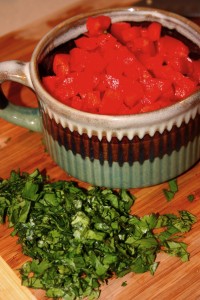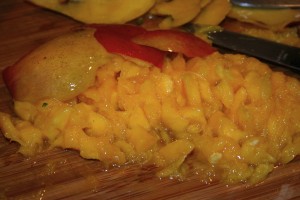 Ingredients:
1/2 cup quinoa
1 cup water
1/4 cup orange juice
1/4 cup chopped cilantro
2 tablespoons rice vinegar
2 teaspoons toasted sesame oil
1 teaspoon minced fresh ginger
1/8 teaspoon salt
Pinch cayenne pepper
1 small mango, diced
1 small red bell pepper, diced
1 cup canned black beans, rinsed
2 scallions, thinly sliced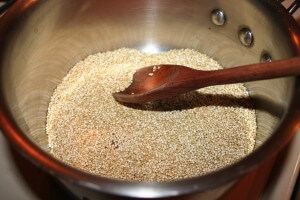 Directions:
1. Toast quinoa in small dry saucepan over medium heat, stirring often, until it crackles and becomes aromatic, 4 to 6 minutes. Careful not to burn.
2. Transfer to fine sieve and rinse thoroughly. Return quinoa to the pot and add water.
3. Bring to a simmer and reduce heat to maintain a simmer. Cook until quinoa is tender and the liquid has been all absorbed, 15 to 20 minutes.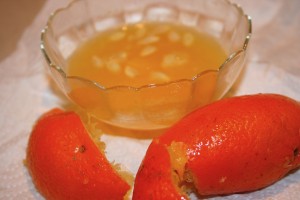 4. Whisk orange juice, cilantro, vinegar, oil, ginger, salt, salt and cayenne in medium bowl.
5. Add mango, bell pepper, beans, scallions; toss to coat.
6. When quinoa is finished cooking, add mango mixture and toss to coat. Cover and refrigerate. Serve chilled and Enjoy!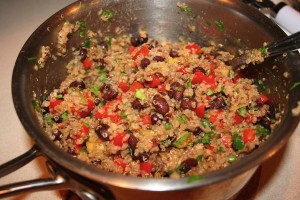 *Makes 2 servings, approximately 2 cups each
* Recipe Source: www.eatingwell.com
* Per serving: 422 Calories, 9 g total fat, 15 g protein, 74 g carbohydrates, 0 g cholesterol, 19 g fiber