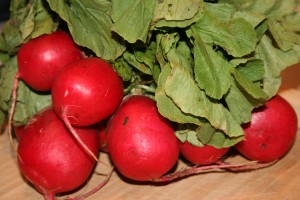 Today I'm taking a Closer Look at radishes. If you're like me, you've seen others eat them, tried them once or twice in the past and didn't like them. My grandpa used to grow them and my husband has grown them and I just always thought that I didn't like them, so I didn't eat them.
So, why am I taking a Closer Look at radishes today? I was at my friend Mary's house for a party a couple months ago and she had radishes on an appetizer tray. I tried them and actually really liked them! Who knew? It hadn't been that long before that I tried them and didn't like them. But for what ever reason I do now and I'm really glad. So here's a Closer Look at these little red roots and why you should give 'em a try again!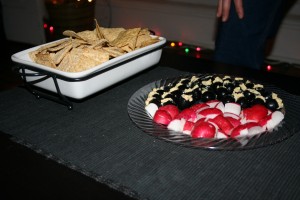 What are radishes?
Radishes are a member of the cruciferous family, which means they're related to broccoli, brussel sprouts, and cauliflower. There are several different varieties of radishes. They vary in color from red to purple to black to white. They can be very small or rather large. You can not only consume the root, but the greens as well. The mustard oil found in the vegetable gives it its tangy flavor.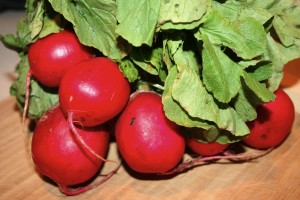 How to select the best radishes?
Look for radishes that have brightly colored roots that are firm and have crisp greens.
What are the nutritional benefits of eating radishes?
These little guys are packed full of the good stuff. They are high in the cancer fighting antioxidant vitamin C and the greens have even more than the roots. Radishes are a great source of folic acid, calcium, iron, potassium, and thiamine. They are a great source of fiber and have been traditionally used to relieve constipation and assist with weight loss. They're low in carbs and help to keep the liver and kidneys functioning properly.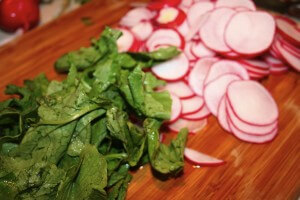 What are some various ways to use prepare radishes?
You can eat radishes and their greens raw. They make a nice addition to salads and veggie appetizer trays. I like to eat them raw with hummus. You can saute them and include them in a variety of dishes. Add them into anything you want to add a little zing to, including pasta dishes and vegetable sautes.
Stay tuned this week for one of my new favorite pasta dishes using radishes.
I hope you'll give radishes a first or maybe a second try. You never know, they could become a new favorite for you!
*Source: www.brighthub.com/health/diet-nutrition/articles/42219.aspx