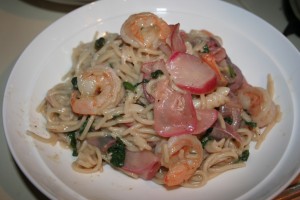 As promised here is one of my new favorite recipes that uses radishes. Its a delicious flavor combination that swirls together the flavors from the buttery shrimp, the spicy radishes, and a touch of garlic to create this dish. This pasta dish really hit the spot for me. I love pasta dishes but can only eat it when I make it, as gluten free and dairy free recipes in restaurants is still a challenge. So this one is a nice change to my staple pasta with pasta sauce.
This recipe is a great choice for someone who isn't sure if they like radishes or not, as cooking them mellows out their flavor a bit.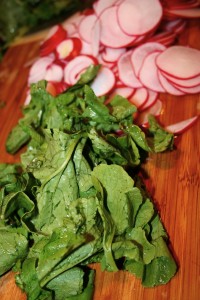 Ingredients:
Coarse salt and ground pepper to taste
3/4 pound Gluten Free linguine or other long pasta
1/4 cup unsalted butter (if you can't eat butter you could use margarine or just olive oil)
2 cloves minced garlic
1 large bunch radishes, thinly sliced (I used a mandalin) with greens rinsed well and roughly chopped
1/2 red onion, sliced
1 pound frozen large shrimp, peeled, deveined, and thawed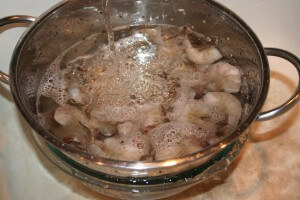 Directions:
1. Cook pasta in a large pot of boiling salt water; drain and set aside, reserving 1 cup of pasta water. Add 2 tablespoons butter to the pasta and toss until it melts; keep pasta warm.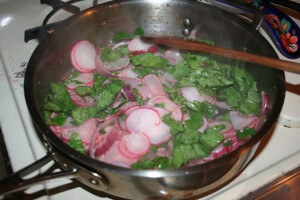 2. Meanwhile in a large skillet melt 1 tablespoon butter over medium high heat. Add garlic, onions and radishes and cook, stirring occasionally until radishes are crisp-tender, 3 minutes.
3. Add radish greens and cook until wilted, seasoning with salt and pepper. Then add to pasta and stir to combine.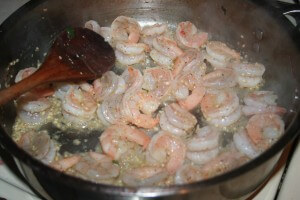 4. In the same skillet you used to cook the veggies, melt 1 tablespoon butter. Add the shrimp, seasoning with salt and pepper. Cook, stirring occasionally, until the shrimp are opaque throughout, about 4 minutes. (They will curl up and turn a slightly orange color when cooked through).
5. Add shrimp to pasta and toss, adding enough pasta water to create a light sauce that coats pasta. Serve and enjoy!
I suggest to make this recipe make sure to cut up all the veggies first and to peel, devein and thaw the shrimp before you begin cooking. I added onion to the original recipe to add extra flavor.
*Recipe serves 4 people
*Recipe source Everyday Food: A Martha Stewart Magazine, April 2011 Issue