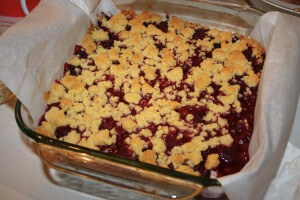 I thought I'd wrap up the week with a sweet treat that's sure to satisfy your sweet tooth! I have to admit that my general consensus on sweets is that if its not chocolate don't bother. But this one is quite tasty even without chocolate.
This Raspberry Cornmeal Crisp uses Spring fruit, but admittedly I wouldn't consider it healthy…you'll see what I mean when you see the amounts of sugar and butter. I'm not an advocate for eating an healthy diet, but a little sweet can curb your cravings and keep you from binging. My advice with sweets: Don't waste the calories and sugar on processed sweets…if you're going to eat sweets make them the really good homemade ones!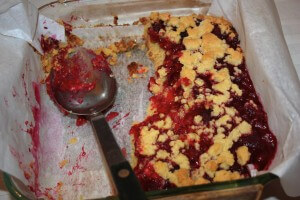 This is another Everyday Food: A Martha Stewart Magazine, April 2011 Issue recipe. I adapted Martha's recipe to fit my restricted diet and it came out really well. Martha says to cool the crisp and cut it into bars, but yeah right…let it cool after it comes out of the oven hot and gooey? I don't think so. We served it warm and when warm it reminds me of a crisp. When its served cold it reminds me of shortbread with fruit. So, try it either way you like.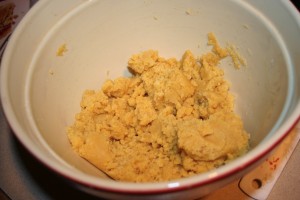 Ingredients:
1/2 cup cornmeal
2 cups gluten free all-purpose flour (spooned and leveled)(I used Bob's Redmill Brand)
3/4 cup sugar
1/2 teaspoon coarse salt
1 cup (2 sticks) unsalted butter, melted
10 ounces frozen raspberries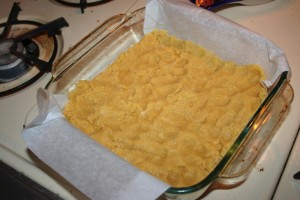 Directions:
1. Preheat oven to 350 degrees. Line an 8 inch square baking dish with parchment paper, leaving a 1 inch overhang on 2 sides.
2. In a large bowl, mix together cornmeal, four, sugar, and salt.
3. Add butter and stir or mix with your hands until ingredients are evenly moistened.
4. Press about 2/3 dough into the bottom of the dish.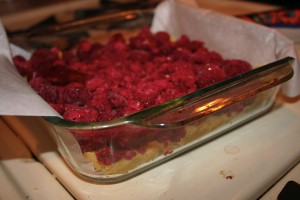 5. Scatter raspberries over the top and crumble remaining dough over the raspberries.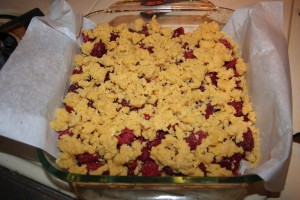 6. Bake until top is golden brown, 35 to 40 minutes. Let cool and cut into bars or spoon hot into dishes. Eat and Enjoy!