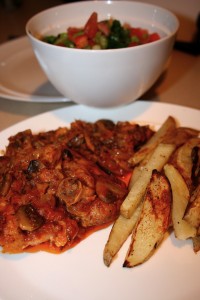 I've come to the conclusions that you know a recipe is going to be really good when it's made by a grandma, who has cooked it for her family for 50 years, never written it down, and says she just adds a little of this and some of that.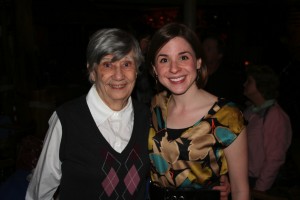 This is my adopted grandma, Grandma Jo…that's right, she's not related to me by blood. She adopted me and Matt as her adopted grandchildren and we adopted her as our adopted grandma. Its kind of a long story of how this all came about, but long story made short: We met Grandma Jo through the Adopt-A-Grandparent program that I helped run in college. Because I was heading up the program and running the events I wasn't going to adopt a grandparent myself, but Grandma Jo said "nonsense, you need a grandparent too." We hit it off right away and felt like we had known each other forever. At the time, all of my grandparents had just passed away and I really missed having grandparents. Grandma Jo had always wanted grandkids. So, this was all perfect timing and we've been her grandkids and she's been our Grandma Jo ever since.
Grandma Jo, a seasoned cook, full Italian heritage and born in Chicago in 1920, has stories better than any screen play ever written. She often has us over for dinner, cooking her homemade recipes, we listen to old records, play dominos, and talk to her about the decades past. Grandma Jo has so graciously shared many of her recipes with me and this is one of my favorites.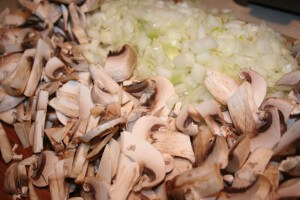 This one she just calls Chicken with Mushrooms. Its an Italian recipe that's full of flavor and fairly simple to make. So, I hope it could become a staple recipe for you, like it has for me.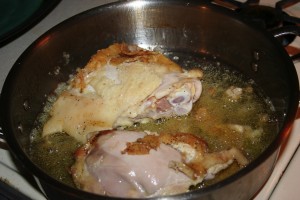 Ingredients:
1 package of chicken thighs (anywhere from 2 to 3 pounds worth)
3 tablespoons olive oil
1 container mushrooms, sliced
1 large onion, diced
1 small can of tomato sauce
Fresh parsley, chopped, add to taste
Salt and pepper to taste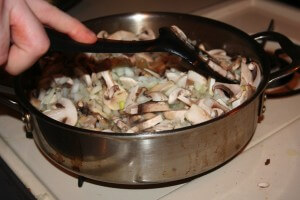 Directions:
1. Wash chicken with water and salt and pepper. In a large frying pan add olive oil over medium heat and carefully add chicken thighs, skin side down. Brown chicken thighs on all sides. (To avoid oil splatter you can remove the pan from the heat and lay the chicken thighs down gradually)
2. Remove chicken thighs and set aside.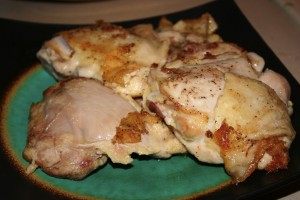 3. In the same pan sautee mushrooms and onions. You may need to add a little olive oil if they start to stick. Heat until the onion is translucent.
4. Add the tomato sauce, 3/4 of the tomato sauce can of water, the chicken and parsley into the frying pan. Mix all together and cover on low to medium heat. Cook for 45 minutes, turning the chicken over at least once. Adjust salt and pepper to taste.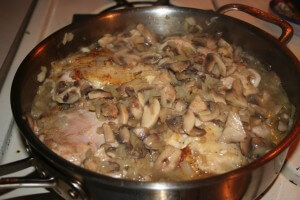 5. Serve chicken on top of pasta or with a side of oven baked potato wedges. This recipe serves 4 people. Enjoy!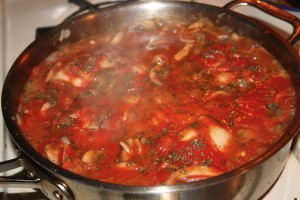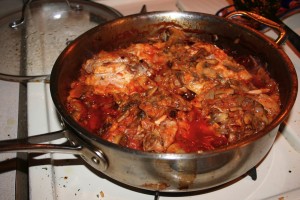 Thanks to Grandma Jo for sharing her delicious recipes!