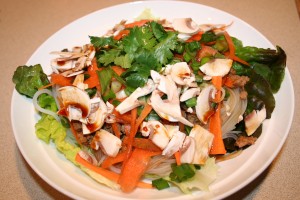 I love reinventing recipes to fit the ingredients I have on hand and the current needs for the particular meal…Let me explain!
This weekend I really wanted to make the Turkey Lettuce Wraps (I posted back in January), but I ran into some road blocks:
-The lettuce leaves I had were just not very big to hold the ingredients.
-I also didn't have quite enough ground turkey.
-I wanted to use some rice noodles and fresh mushrooms I had on hand.

The Solution:
-Make the turkey for the lettuce wraps and the sauce as directed, I just made a smaller amount.
-Make it as a Lettuce Wrap Salad rather than actual lettuce wraps.
-I laid the bed of lettuce leaves down first, then added the layer of rice noodles, then the ground turkey, followed by the veggies (shredded carrot, diced green onions and mushrooms), and topped with a little of the sauce from the turkey.
The Result:
-It was awesomely delicious!
-It was less messy than regular lettuce wraps (no messy fingers)!
-This would make a great meal for left overs from the lettuce wraps when you may not have enough of each item to make the actual wraps.
-Its a great solution for those who need an easy lunch to take to work (and no messy fingers)!
Remember to make lemonade out of lemons! My encouragement is to take a recipe and adjust it to fit your needs…
Here's to tasty food for every meal!