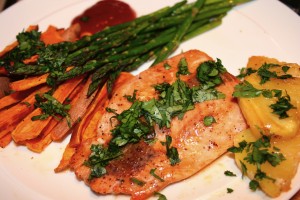 So, the weekend is finally here!
And you're thinking about heading out to a restaurant to get a delicious meal because you're not wanting to spend your whole night cooking, right?
At a restaurant you could spend $25 or more per plate for this salmon dish with roasted asparagus and sweet potatoes. But, I'm here to tell you that its really not a whole lot of work and it'll save you quite a pretty penny to make it at home.
Here's to cooking and eating great food at home!
Ingredients:
1/4 cup pure maple syrup
1/4 teaspoon cayenne pepper
1 pound skinless salmon fillets, cut into 4 pieces
coarse salt and ground pepper
pineapple peeled, cored, and cut into pieces (up to 1/2 a whole pineapple)
1/4 cup cilantro, chopped
*I've found that Walmart carries frozen wild caught salmon for a great price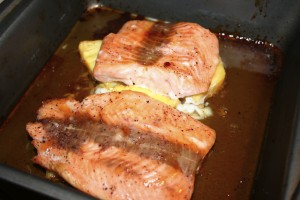 Directions:
1. Heat broiler (or you can use your oven at 400 degrees).
2. In small bowl stir together maple syrup and cayenne pepper.
3. Season salmon fillets with salt and pepper. Use cooking spray or oil to prepare rimmed baking dish.
4. Arrange pineapple on the bottom of pan and then place salmon fillets on top.
5. Pour half of the maple cayenne mixture over the salmon.
6. Broil salmon for 8 to 11 minutes, pouring remaining glaze over it half way through. May need to cook a little longer if using the oven rather than broiler.
7. Serve salmon with cilantro and pineapple. Enjoy!
*This recipe pairs well with oven roasted asparagus and sweet potatoes.
*Recipe source: Martha Stewart's Everyday Food, March 2011 edition
Have a great weekend and happy cooking!