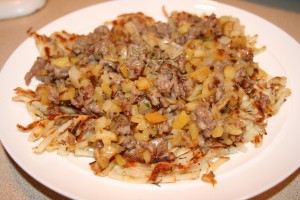 Breakfast food isn't just for breakfast anymore; I make this recipe for dinners as well.
One of the hard parts about my restricted diet is eating breakfast/ brunch foods out at restaurants…no eggs, dairy, or wheat makes brunch at a diner almost impossible.
These Loaded Hashbrowns not only satisfy my craving for hearty breakfast foods, but are so simple. They make a quick tasty dinner on the go that's really inexpensive. On a night you need a quick meal, give this one a try. And as I've learned, it'll always take longer the first time you make a recipe. The second time, its always quicker.
This one's definitely kid friendly. The apples and onions both caramelize creating a sweet flavor that blends with the saltier meats to beautifully complement the hashbrowns. Served with ketchup, what kid wouldn't eat em'?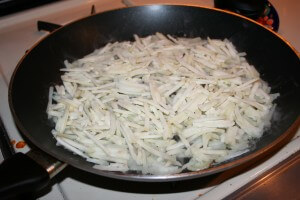 Ingredients:
2 tablespoons olive oil (may need to add a little more if ingredients stick to pan)
5 cups frozen shredded potatoes (about half a 26 oz. package)
1 teaspoon dried thyme
6 oz. breakfast sausage/ italian sausage/ left over ham (whatever you have)
1 medium apple, diced
1 small onion, diced
salt and pepper to taste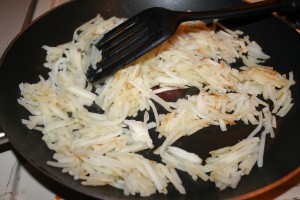 Directions:
1. Heat 1 tablespoon olive oil in large frying pan over medium heat. Add frozen potatoes and sautee, stirring occasionally, for 8 minutes.
2. Meanwhile in a separate frying pan heat remaining olive oil over medium heat. Add apples, onions, and meat. Sautee until sausage is cooked and onion is transparent. Then add 1/2 teaspoon thyme and salt and pepper to taste.
3. Add 1/2 teaspoon thyme and salt and pepper to taste. Cook until potatoes are golden brown, approximately 5 minutes.
4. Serve hashbrowns with apple, onion, sausage mixture on top and ketchup on the side. Enjoy!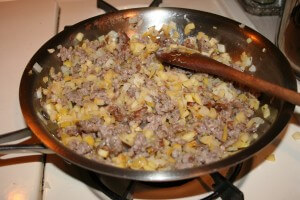 If you're really hungry this dish will serve 2 people. If you like a smaller portion it'll serve 4 people.
This Loaded Hashbrowns recipe is based off of Better Homes & Gardens Anyone Can Cook, Shredded Potatoes with Sausage and Apple Recipe.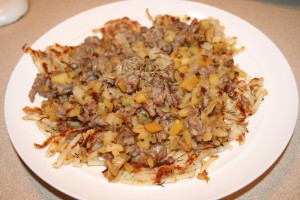 These Loaded Hashbrowns are great for breakfast, lunch or dinner. Hope you enjoy!