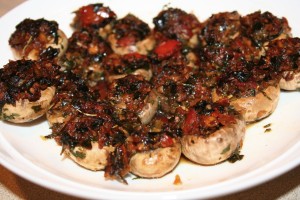 One of things I miss a lot, since going on my "special diet" (see the "Who is Madindy?" page for details) are appetizers and finger foods at parties!
Most of the time appetizers and finger foods include bread, cheese, and eggs somewhere in the mix. So more often than not I'm the one who's loaded her plate with the raw veggies and fruits from trays and I eat them with no dip (most of the time because the dips are a dairy base). And people say, "are you on a diet?" "oh, you're eating healthy!" And I'm thinking "oh, believe me if I could, my plate would be loaded with the cheese dips, crackers, cookies, breaded appetizers, etc."
But, I'm very thankful that my dietary needs have taken me down this food exploration journey and I hope you'll join me!
So, my allergen-free friends, or those just looking for tasty appetizers that are a bit healthier than those filled with cheese and bread, these Stuffed Mushrooms are for you! This recipe contains no animal products, so its considered Vegan as well.
They are so good that even my friends (who eat "normal diets") loved them too, always a good sign!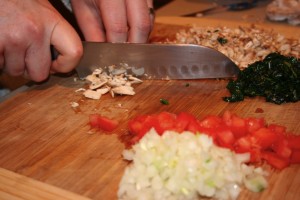 Ingredients:
1 tablespoon olive oil
1/4 cup onion or shallot, minced
1/2 cup crimini mushroom stems, diced
3/4 to 1 whole carton of crimini mushrooms (stems removed and used for the above), cleaned
1 bunch collard greens or spinach, thinly sliced yielding 1/2 cup
1/4 cup tomatoes, diced (small)
1 teaspoon basil (dried or fresh minced)
1 teaspoon Italian parsley (dried or fresh minced)
3/4 teaspoon (gluten free) soy sauce
1/2 teaspoon minced garlic
Pinch red crushed pepper
sea salt to taste
Lemon Herb Marinade Ingredients:
1 cup water
2 tablespoons fresh squeezed lemon juice
1 tablespoon (gluten free) soy sauce
1 tablespoon Italian parsley (dried or fresh minced)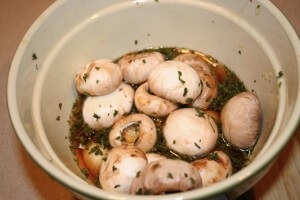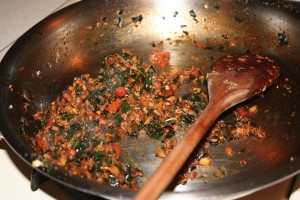 Directions:
1. Preheat oven to 375 degrees. Place mushroom caps in marinade blend for at least 20 minutes.
2. While mushrooms are marinating, place oil in sautee pan. Add onion/shallots and minced mushroom stems and cook for 5 minutes, stirring frequently. Then add collard greens/spinach and tomatoes and cook for 5 minutes. Then add remaining ingredients, mix well and remove from heat.
3. Remove mushroom caps from marinade. Fill each cap with mixture. Place on baking sheet in the oven for approximately 10 minutes or until mushrooms are soft, careful not to overcook. Enjoy!
Serves: 4
* Recipe source: http://www.bewellbuzz.com/recipe-buzz/vegan-spinach-stuffed-mushrooms/