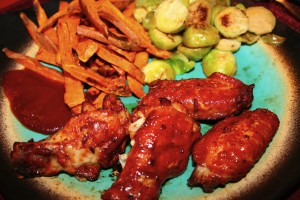 This recipe is for all those guys and gals that love spicy food! I always say that my hubby, Matt, doesn't have taste buds anymore because he probably burned them off eating so much spicy food in his lifetime. He likes that spicy that would bring anyone else to tears…me, I like the flavor of spicy food, but not the burn that turns your lips bright red and makes your nose run.
This recipe will give you that spicy food fix, without bringing you to tears.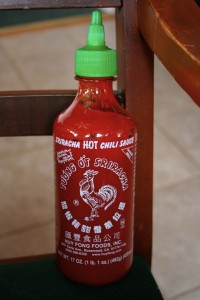 This recipe uses Sriracha Hot Chili Sauce which is a blend of chiles, sugar, salt, garlic, and vinegar. A native of Thailand, it can be used to add a little spice to any dish from stir-fries, to eggs, to hamburgers. You can add it to hummus, mayonnaise, ketchup, or cocktail sauce to add a kick.
You can pick it up in the Asian Food aisle of your supermarket.
You know those spicy chicken wings you get at restaurants? Well, here's how to make a version of those tasty little guys at home. Matt loves chicken wings, but if I had to do this one again I would have done some chicken thighs along with the wings for me…I always think chicken wings are a lot of work for very little meat, so I'd add some chicken thighs.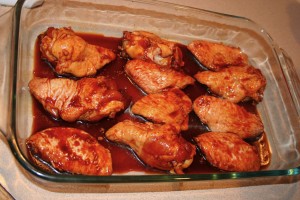 *Recipe source and Sriracha Hot Sauce information: Martha Stewart's Everyday Food, January/ February 2011 Issue
Ingredients:
1/4 cup (gluten free) soy sauce
2 tablespoons, plus 1 teaspoon white vinegar
1 tablespoon Sriracha Sauce
1 tablespoon sugar
1 1/2 teaspoons grated peeled fresh ginger
1 1/2 teaspoons toasted sesame oil
1 1/2 pounds chicken wings (I'd use some chicken thighs within this 1 1/2 pounds as well)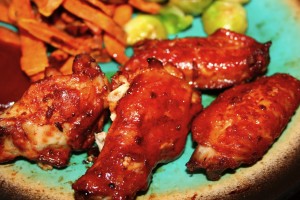 Directions:
1. Blend together all ingredients except chicken.
2. In a glass baking dish toss chicken in sauce to coat. Marinate in fridge for 30 minutes, tossing half way through.
3. Preheat oven to 475 degrees. Bake until chicken is cooked through and sauce thickens, 30 minutes, flipping chicken halfway through. Serve and enjoy!
*May need to bake chicken less than 30 minutes, or cover with tin foil toward the end of baking because sauce in the bottom of dish may start to burn toward the end of baking.
*I served this dish with baked sweet potato fries and sauteed brussel sprouts.