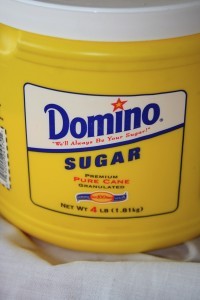 I'm wordy again today, but I'm hitting a topic that you've got to know the facts about! Did you ever wonder why people who continually drink diet sodas often seem to be overweight?…then read on. I noticed this through pure observation when I was really young, which is why I'm fascinated by this research.
Let's get the facts and stop letting advertising campaigns educate us about what's good for us.
Sugar has become the villain in today's diets and artificial sweeteners have become a hero to dieters everywhere.
More and more research and studies are exposing the truth about artificial sweeteners, showing they not only contribute to weight gain, but can cause a whole world of health issues.
The Problem We're Trying to Solve:
We as a society (I'm definitely included) love sweet foods, juices, sodas, yogurts, desserts, cereals, etc. But, we don't like the negative side effects that consuming excess sugar has on our bodies. Side effects such as weight gain, diabetes, elevated triglycerides (leading to heart disease), suppressed immune system, etc. So, we look for ways to still indulge in the sweet taste, without these terrible side effects…thinking that we can have our cake and eat it too.
source: http://www.healingdaily.com/detoxification-diet/sugar.htm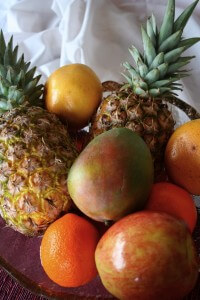 Real Sugar:
According to a series of experiments done at Purdue University and published in Behavioral Neuroscience, when you consume real sugar (from foods such as fruit, table sugar, honey, real maple syrup, etc.) your body connects and anticipates the caloric load that comes from eating these real sugars and it revvs up your metabolism.
source: http://www.time.com/time/health/article/0,8599,1711763,00.html
According to various research studies and written about by Andreas Moritz (naturalnews.com ),
"The body has a self-regulating mechanism, a kind of thermostat that measures the amount of energy (or calories) it can obtain from a particular meal. When your body has received enough energy from the food you have eaten, then your mouth, stomach, intestines, and liver send messages to the brain that all energy requirements have been met. Subsequently, your nervous system secretes hormones that stop your desire for more food. This point of saturation is essential for your wellbeing, for without it you would continuously want to eat and never feel satisfied."
The problem is we eat too much sugar and require our foods to be sweeter than our ancestors ever did. According to Dr. Hubber, healthyalterego.com, if you look back to 1910 the sweet foods that people consumed were mostly from natural sources like fruits. Even table sugar was not highly used. Our problem today is that we eat far too much sugar. Our tolerance for sugar has risen; we need/expect our food to be sweeter.
Artificial Sweeteners:
To solve this dilemma (wanting the sweet taste without the negative side effects) many people have turned to artificial sweeteners. This includes anything that's labeled diet, sugar free, or products that contain sucrolose, aspartame, saccahrine, NutraSweet, Sweet 'N Low, Neotame, Splenda, Equal, etc.
The Truth About Artificial Sweeteners
Why Artificial Sweeteners Make you Fat:
Dr. Huber (healthyalterego.com) summarizes all the research and science stating,
"Translation: fooling the body with excessive sweeteners resulted in increased calorie intake at subsequent meals as their appetite was stimulated, increased weight gain and fat deposits, lowering of metabolism so fat burned less efficiently."
Basically, artificial sweeteners never satisfy your body's craving for calories and cause you to just crave more. That's not so good for those trying to loose weight by eating these substitutes, but is really good for the companies making these "diet" foods and drinks because you'll eat more and more of them.
other sources: http://www.naturalnews.com/022785.html
http://www.time.com/time/health/article/0,8599,1711763,00.html
The Other Side Effects of Artificial Sweeteners:
You can look through all these sources to see the details including how these items scooted their way past the FDA, but here are the basic facts.
Aspartame (and the sweeteners made from it, phenylalanine) are especially dangerous as they damage the central nervous system. Some of the health issues they cause include migraines, fuzzy thinking, changes in behavior, depression, seizures, visual disturbances, gastrointestinal reactions, joint pain, fatigue, etc. Aspartame is the cause of over 75% of adverse food reactions reported to the FDA.
Other artificial sweeteners can cause cancers, testicular damage, negative effects on baby of a pregnant woman, and much more.
sources: http://articles.mercola.com/sites/articles/archive/2010/07/31/aspartame-update.aspx
http://www.naturalnews.com/022785.html
http://articles.mercola.com/sites/articles/archive/2009/10/13/Artificial-Sweeteners-More-Dangerous-than-You-Ever-Imagined.aspx
What to do?
So, you feel like you're between a rock and a hard place? You don't want to eat sugar because you're watching your weight, are prone to diabetes or candida overgrowth, but obviously these artificial substitutes are not a better option.
I've personally noticed that when you eat sugar, your body craves more. One thing to do is to fight the cravings and just not give in. I crave sweets, but for me its especially chocolate. With my restricted diet, unless I make sweets from scratch I often cannot eat them. I satisfy my craving, by keeping a bar of high quality dark chocolate on hand. When I crave sweets, I'm shocked that a small piece of this high cocoa content (less sugar than lower cocoa content chocolate bars) bar often satisfies my craving.
Find a way to satisfy those intense cravings, that works for you. Such as:
-Fruit, its sweet and natural
-Indulge in what you crave in smaller amounts
-Real soda but a small amount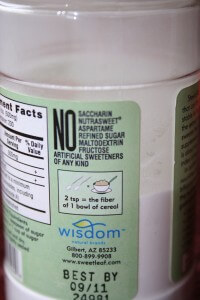 Another option is the natural sweetener that's been used for centuries called Stevia. You can find it in the health food section of your grocery. Its made from a leaf and contains no sugar and its natural (not man made, but found in nature).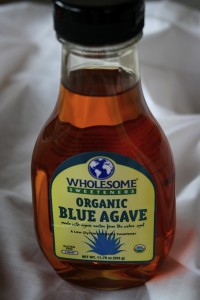 Another option is Agave Nectar. Made from the agave plant, its also a natural product. It contains sugar but has a lower glycemic index (good for those watching weight or those with diabetes).
I hope this will encourage you to know what you're eating before you eat it. The sources I'm linking to in this article are just some of many that are out there supporting these facts.
Still confused about what to eat and not eat? My general rule of thumb is, eat real stuff…ingredients made by God, not a scientist. Eat what you love but in moderation.
Have a good weekend!
Other sources:
http://www.splendaexposed.com/
http://abcnews.go.com/GMA/OnCall/story?id=4271246&page=1
http://www.medicalnewstoday.com/articles/96849.php