I just made a diaper cake for a dear friend's baby shower this past weekend.
She's due to welcome her little into the world at the end of the March, so we're all getting really excited! She doesn't know if her little one is a boy or girl, so she is doing most of her bedding, blankets, etc. in green, so she can add in blues or pinks when she meets her/him.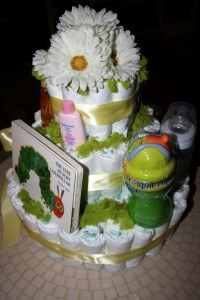 With my excitement for Spring and knowing the baby will be born this Spring, I went with a Spring look for the diaper cake and shower decor (I'll post later this week). I was trying to get some inspiration for it all and kept thinking about Spring green moss. Its the right color, not overly "girlie" or "babyie" (neither the mom-to-be or myself are into the "baby look"; you know clowns, noah's ark, winnie the pooh, etc.). So, this fresh look really seemed to work well.
I used green moss and 2 small bunches of silk daisies I bought at the craft store, as well as pale yellow satin ribbon I got from Buy Buy Baby (they have available in their complimentary gift wrap station) to decorate the cake.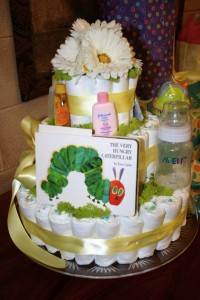 On the tiers of the diaper cake are baby items mostly from the mom-to-be's gift registry, including the book "The Very Hungry Caterpillar" (one of my childhood favorites and this one is a cardboard book, so its great for young children). There are 2 baby bottles in the center of the cake and one on the lower tier. The cake includes 100 size 2 diapers that will definitely be used in the future.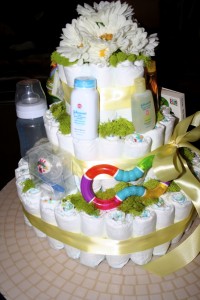 There is a pack of "rockstar" pacifiers and a baby teething toy, as well as a sippy cup and travel sized baby care items.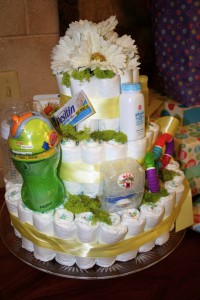 Diaper cakes are great baby shower gifts, as they're not only a gift but a decor item on the gift table and can decorate the baby's nursery for a while.
Have a baby shower you need a gift for? Not sure what to get? Let me know as I now offer diaper cakes for sale, special made for the mom-to-be's nursery theme and registry items. Interested? Contact me through the Ask Madindy page.