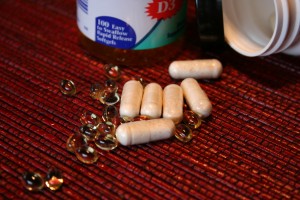 I'm a little long winded today, but I think it'll be worth the read. I seem to keep meeting people that have very similar health stories to mine. So, I thought I'd start a segment as a resource specifically for people who are having difficult health journeys. You can see my full story in the "Who is Madindy?" page.
Have you seen a hand full of doctors or specialist who have never told you the cause of your health issues, but just prescribe more medications to treat your symptoms? (see my story)
When you go in to see a doctor do they pull out your huge medical file and say "wow, you've got a lot going on here"? (like that's comforting…and yes, I've had multiple doctors respond to me this way)
Do your friends, family, or maybe even your health care professionals say that you may just be a hypocondriac/ it's all in your head? (yep, I've had many people suggest that as well)
Are you so sick and tired of being Sick & Tired? (that's why I didn't stop searching for better ways to treat my health issues)
Are you tired of taking prescription drugs that continually get pulled off the market or cause more than undesirable side effects? (been there, done that)
Do you just keep thinking, there has to be a better way to manage my health? (hence my journey toward homeopathic/ holistic/ natural healthcare)
I'm here to tell you that you're not alone! Since I started to begin talking more openly about my health struggles a few years ago and starting this blog at the beginning of this year, I've met more and more people that have a similar and some almost the exact same combination of seemingly random health issues that I have.
In this segment, Sick & Tired, I'll give suggestions for different avenues to managing your health.
*Disclaimer: Please always seek a medical professional's advice before implementing any new health care plan, diet, or supplementation plan. I don't claim to be a medical professional, just someone who wants to share my own journey toward a healthier life.
Here is my first piece of advice for someone experiencing a variety of health issues, and despite seeing many doctors, their health seems to keep spinning out of control (new symptoms, medications don't seem to solve the issue, just mask it's symptoms):
Find a medical professional that you trust who you can work with.
In my own journey I saw your typical family care practitioner, who referred me to a hand full of specialists (gastrointernologist, standard allergist, pulmonologist, dermatologist, etc.). I'm sure there are good standard medicine practicing doctors out there who truly do help people. But, I have to say, that was not my experience! After years of treatment (15 years), all my health issues were managed through a meal full of prescriptions…only managed, but never solved.
It wasn't until I began doing my own research, through the help of my husband (reading a lot online), talking with chiropractors, talking with friends with similar issues, and reading a lot that I began seeing other ways of managing my health. I began seeing a holistic M.D. (http://www.meta-ehealth.com/site/office/practice.jsp), who works with people who have allergies and other chronic health issues. This was the first time a doctor asked me to hear my full medical history, according to how I've experienced it and he said "your story is very similar to so many others I've heard." Its been a long journey, but through proper testing techniques and one doctor looking at the whole picture, I have experienced true progress in my health. I now use not one prescription (not even a maintenance inhaler, and I have asthma). I manage my health through diet, immunotherapy allergy shots, and a supplement program. I'm not 100% yet, but am 10 times better than I was 2 years ago!
I encourage anyone with similar issues to find a holistic/ naturopathic/ natural/ homeopathic doctor who treats people with chronic health issues. A great way to find one in your area is to go into your local health food store and ask if they know of any local holistic doctors. Talk openly about your health struggles and you'll be surprised at others who have similar issues that may have some great local resources (I found people I had known for years had some similar issues, I never knew about until I began talking more openly).
I found a doctor through friends that has a great online resource community, Dr.Mercola. He tends to be controversial within the medical community, as he exposes a lot of flaws in standard medicine, but I've found him to be a great resource.
My biggest piece of advice is don't give up on your journey toward a healthier life! Its not an easy road to walk, so find others who will support you (friends, family, others who can relate) and pray with in your journey. And remember its a journey.
Hope you'll keep following for more tips!