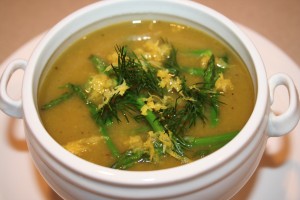 Technically its still winter, but I guess I'm so ready for Spring that I'm getting a bit of a jump start on the season. This Asparagus Soup is a delicious way to welcome a little Spring into your home, while still having some hearty warmth to chase away the winter blues.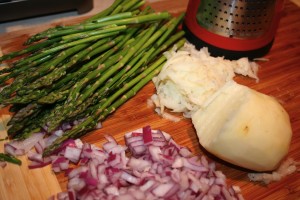 When I first saw this recipe I thought "asparagus in soup…I don't know." But Matt and I have been making this soup for a few years now and love it every single time. Think of it as a potato soup with Asparagus in the mix.
I love this soup because it uses the discarded ends of Asparagus, so no waste here. It definitely hits the spot for me because I love creamy soups, but can no longer eat dairy and this soup has that creaminess without the dairy. It can also be made vegetarian/ vegan.
I hope you'll try this tasty soup and add it to your favorites' list!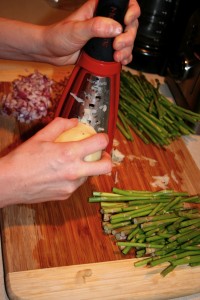 Ingredients:
1 pound asparagus
6 cups chicken stock (or use vegetable stock for a vegetarian/vegan version)
1/2 cup minced shallot (if you don't have shallot you can use onion)
1 potato, grated
Salt and pepper to taste
Grated lemon peel and snipped fresh dill for garnish

Directions:
1. Snap off ends of asparagus (trimmings). (see my post on Asparagus to see how to do this www.www.rglserbia.org/#573)
2. In a large saucepan bring stock to a simmer and add asparagus trimmings. Simmer for 15 minutes.
3. Meanwhile, rinse remaining asparagus spears. Cut off tips and set aside. Cut remaining stalks into 1 1/2″ pieces.
Picture above: asparagus tips (right) and remaining stalks cut into 1 1/2″ pieces (left and in photo below)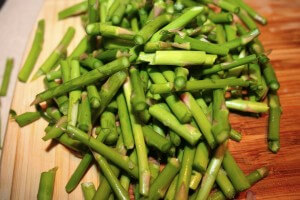 4. Remove asparagus trimmings from simmering broth and discard.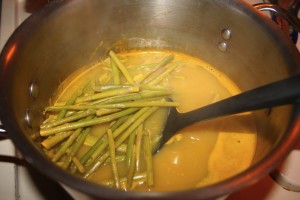 5. Add asparagus stalks, shallot, grated potato, and salt and pepper to taste. Bring the liquid to a boil then simmer the mixture, stirring occasionally, for 25 minutes.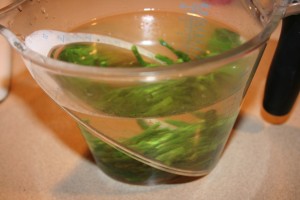 6. Meanwhile in a saucepan of boiling salted water blanch the asparagus tips (boil for less than a minute until the tips turn bright green then submerge in cold water).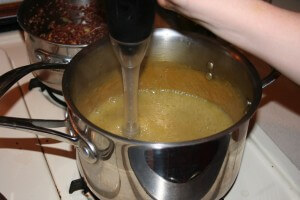 7. Using a submersion blender (shown above and my favorite new kitchen device) or in a standard blender puree the soup until smooth. Adjust salt and pepper to taste.
8. Serve soup with blanched asparagus tips, grated lemon peel and dill to garnish.
*Recipe Source: Food Network, recipe courtesy of Gourmet Magazine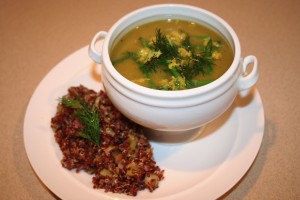 I served this Asparagus Soup with the Lemony Red Quinoa I posted last week (www.www.rglserbia.org/#646). This makes a delicious vegetarian/ vegan meal when made with vegetable stock.
I hope you enjoy this tasty soup. To read more about Asparagus (how to pick it, nutrition facts, etc.) check out my Closer Look: Asparagus post (www.www.rglserbia.org/#573).