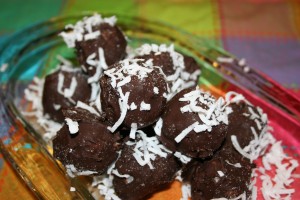 With Good Friday today and Easter approaching this weekend, it's really such a wonderful weekend of reverence and celebration that our Lord and Savior, Jesus Christ, died and rose again for our salvation! What a wonderful celebration!
I'm always looking for desserts that are extra special to make for such celebrations as important holidays and birthdays. A treat that really wows and says "Now this is a celebration!" Even those of us with restricted diets love a decadent dessert to celebrate special events. Restricted diet or not, these Frozen Coconut Macaroon Bonbons are a mouth watering dessert to have at your Easter dinner this weekend or at a birthday bash! If you gave up sweets for Lent this year, what a better way to end your sweet fast than with these delicious little treats?
I actually made these Bonbons for my birthday last fall and lost the recipe…sad day! To my wonderful surprise I received a card from my Mom yesterday with a copy of the recipe I had made for her inside! So, thanks to my Mom for saving the recipe!
Ingredients:
2 2/3 cups (one 7 oz. bag) sweetened, flaked coconut
1/4 cup well-shaken, unsweetened coconut milk (not light)
2 tablespoons organic, refined coconut oil (get it in your health food section of your grocery or at Whole Foods)(try to liquify the oil before measuring)
1 tablespoon agave syrup
1/2 teaspoon vanilla extract
1/4 teaspoon salt
1/4 cup gluten free, dairy free semisweet chocolate chips, melted and cooled
Directions:
1. Line baking sheet with parchment paper.
2. In a large mixing bowl, stir together coconut, coconut milk, oil, agave syrup, vanilla and salt.
3. Drop by tablespoons onto prepared baking sheet, then roll into balls, and freeze for at least 1 hour.
4. Remove bonbons from freezer and dip bottoms into cooled, melted chocolate. Return bonbons to the freezer for at least 20 minutes and remove them from the freezer 15 minutes before ready to serve. Enjoy!
5. Store completely hardened bonbons in an air tight container and keep frozen for up to 2 weeks.
*Recipe Source: Allergy-Free Desserts by Elizabeth Gordon, 2010
*25 minutes prep time plus freeze time
*Makes 16 bonbons
*Per serving: 97 Calories, 2 g Protein, 8 g Carbs, 1 g Fiber, 7 g Total Fat, 41 mg sodium