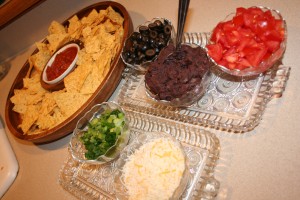 Like I've said before, one of the toughest food scenarios I face with my restricted diet is appetizers and finger foods.
What to eat or bring to get-togethers and parties that doesn't have dairy, eggs, gluten, or any of my other random no no foods. All the frozen appetizers you can buy and heat up in the oven are breaded, fried and have cheese. Most dips have cream or cheese. Dessert? Forget it if its not homemade with specialty flours and egg replacers.
So what's a quick appetizer you can throw together last minute that will be a hit?
Try a Nacho Appetizer Tray! I got this idea when I was walking through the grocery store looking for something to make last minute for a get-together. I saw this pre-made layered nacho dip (layered refried beans, sour cream, cheese, salsa, tomatoes, olives and green onions). A small tray of this dip ran about $16. Expensive for what it was if you ask me.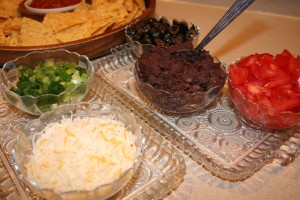 I couldn't eat this dip tray because it had cheese and sour cream mixed in with it.
So, I thought why not serve a disassembled version of this?
I decided to serve the chips and salsa in a typical chip and dip tray and then served the remaining toppings in small glass bowls on glass trays. I put a spoon in each and set out small plates so everyone could pick and choose their own nacho toppings. It turned out to be very inexpensive, easy to do, and had a lot less preservatives than the pre-made tray. The only real prep work included taking the salsa, beans, cheese and chips out of their containers and into the serving trays. I cut up the green onions, olives and tomatoes and put them in their serving trays. Voila!
Here's a list of what I included in my Nacho Appetizer Tray, but you can pick and choose what you want to include in yours.
Corn chips
Salsa
Diced tomatoes
Sliced green onions
Refried beans
Sliced black olives
Shredded cheese
Other toppings you could include:
Sour cream
Fresh cilantro
Melted nacho cheese
Pico de gallo
Black beans
Seasoned ground beef or turkey
I hope this gives you another option of something to served for your next party!
With the left overs I made a meal of taco salads, which turned out really tasty. Enjoy your next party even on a restricted diet!