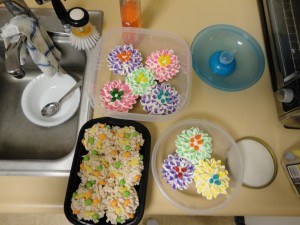 I visited my sis, Sara, over the weekend and she's been showing me some of the adorable cupcakes she's been making. They're so clever I thought I just had to share them with you. She's been baking them following this cupcake cookbook called What's New Cupcake? by Karen Tack and Alan Richardson. It has some really cute ideas for the most adorable cupcakes for any occasion. And these are definitely Kid Friendly, as the book has some wonderful ideas for cupcakes for kids' birthday parties.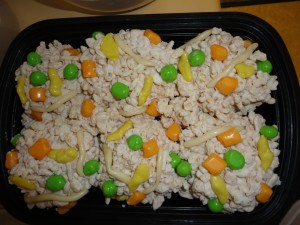 (Above Photo) Sara made these cupcakes for her boyfriend, as a special treat as they love to eat Chinese food together. These 6 cupcakes are put together in a pan to look like fried rice. The cupackes are topped with rice crispy treats and the veggies in the fried rice are mutlicolor Tootsie Rolls cut up. These would make a great gift for your Chinese-food-loving friends and would be adorable given in a Chinese food box.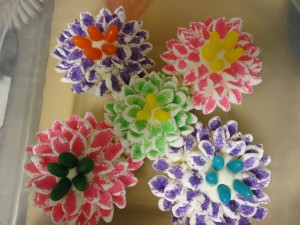 (Above Photo) What a great way to welcome Spring with these colorful flower cupcakes. These beautiful flower cupcakes' petals are made with miniature marshmallows cut in half and dipped in various color sprinkles with icing and jelly beans at the center. These little flowers would be a great Spring hostess gift, given in a basket with a layer of colorful cloth napkins underneath.
Try making these cupcakes allergen free. It will require quite a bit of replacement, but…hello…even those of us who can't eat gluten, eggs, and dairy crave cupcakes.
Here's how to make these tasty cupcakes allergen free:
Cupcake- I suggest just buying a mix like Hodgson Mills gluten free yellow cake mix
Eggs- Ener-G Egg Replacer
Dairy- Use whatever dairy substitute you can use (almond milk, rice milk, etc.)
Icing- Try Pamela's Products gluten free icing mix
Thanks, sis, for the beautiful inspiration! Keep up the creative baking!