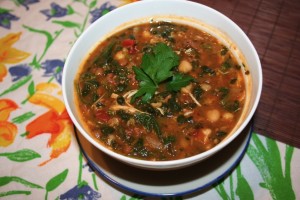 This recipe is simple to make, can be made in a slow cooker, and includes 2 types of meat, 2 types of legumes, and plenty of Spring veggies (spinach, parsley, and onions).
I'm all about healthy homemade meals, but I have to say, the recipes I make again and again are those that are not only healthy and satisfy my taste buds, but those that are quick and easy to make. From all the recipes I post it may look like all I do is cook, but I generally prefer recipes that are low maintenance (those that I can let cook in my slow cooker are the best).
This Spiced Lentil Soup serves 10 people, so if you want less serving portions decrease all the amounts by half, or have left-overs and freeze portions. The creator of this recipe said that her kids loved this one too.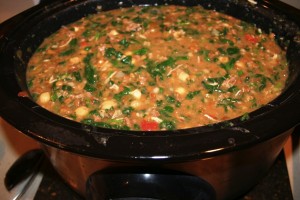 Ingredients:
1/2 pound gluten free Italian sausage (casings removed, crumbled)
1/2 cup diced onion
1/3 cup brown rice (uncooked)
3 garlic cloves, minced
3 quarts gluten free chicken stock
1 cup lentils (uncooked)
1 chicken breast (uncooked)
1/2 cup fresh parsley, chopped
1 can (15 oz.) garbanzo beans
1/2 to 1 pound fresh or frozen spinach
1 jar (12 oz.) salsa, mild or medium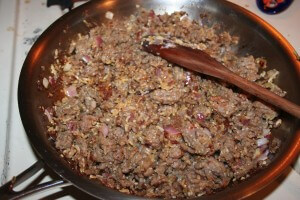 Directions:
1. Brown sausage, onion, rice, and garlic in a skillet. Transfer to the slow cooker or large stock pot (whatever you want to cook the soup in).
2. Add the chicken stock, lentils, chicken breast and parsley. (I added a little less stock, as my slow cooker got a little too full). Simmer for as long as you desire or until lentils are tender. (I simmered mine on high in my slow cooker for a few hours while I ran errands).
3. Stir soup breaking chicken apart. Add beans, spinach, and salsa and heat through. (I cooked it on high for about another 1/2 hour). Enjoy!
*Recipe Source: The Country Cooking Recipe Collection: Prize-Winning Soups & Sandwhiches, (1993 publication) recipe submitted by Marty Rummel, Trout Lake, Washington