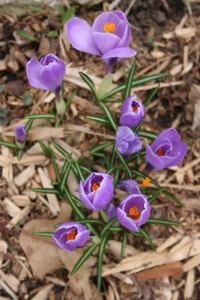 I think it's now safe to say that Spring has FINALLY Sprung in the Chicagoland region where I live! After a rough winter with one of the worst blizzards in history, I have to say I couldn't be more grateful for Spring than I am this year. Sure the official date of Spring was a while ago, but the temperatures are just now starting to show signs that my beloved season, Summer, will in deed be on its way this year. The trees are just beginning to bud and the crocuses, daffodils, and tulips are now peaking their greens and blooms through the mulch and grass. I now consider it Spring!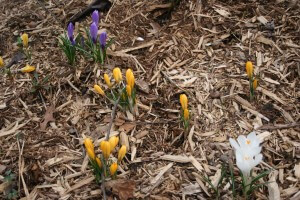 As you have been able to tell from the wide variety of topics I share on this blog, I have a lot of interests, passions, and hobbies. One I'd like to share today is my love for gardening! Why Gardening you ask? Gardening is such a relaxing activity that Matt and I both love. It's a low cost activity for us and allows us something to enjoy outside all summer long. We hope to use it as a source of organic produce as well.
Looking for a way to keep your kids busy outside when the weather is nice? Introduce them to gardening. It's a great way for them to burn energy outside, while also educating them about biology, God's creation, healthy eating, and introduces them to a new hobby! Have a picky eater? Try getting them involved in growing some of their own food. There's significant research that shows that kids are more likely to eat fruits and vegetables if they take part in cultivating them.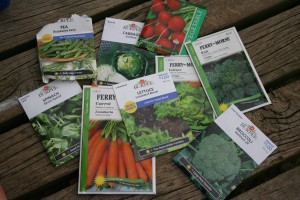 I may be slightly high maintenance (my hubby will laugh at the word slightly), but I have to say there is nothing better than hands, feet and knees covered in dirt from working outside. I can't say I've acquired a completely green thumb, but it's getting greener as I learn more. So, I invite you to join me in getting a little dirty this Spring and start a garden of your own.
How do you start a garden of your own? Here's how I started mine.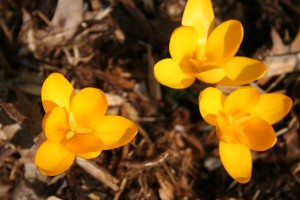 For the past few years we resided in an apartment with just a balcony of outdoor space, but because we both love gardening we made it work and covered our balcony with planters as if it were a yard. We grew everything from various flowers to herbs to tomatoes to cucumbers and radishes. (I had to draw the line though when Matt wanted to plant corn).
Now we live in a house with a yard, so we have the room to plant much more. But, I encourage you if you just have a small balcony fill it with planters and enjoy!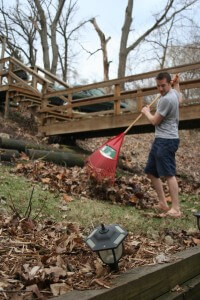 Start your gardening season by first cleaning up your yard or whatever planting space you have. If you only have a balcony, congrats, less to clean up. If you have a yard, rake up the leaves and sticks that have been blowing around your yard all winter. Especially pay attention to your flower and garden beds by cleaning up dead plants from the previous year.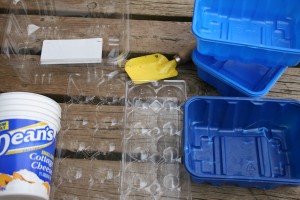 I decided to start some of my plantings indoors this year as its still a little chilly to plant certain crops. I've seen the cute little planting trays in the stores, but my frugality and hate for waste kicked in and I collected my own. Egg cartons, cottage cheese containers, trays that you get mushrooms and mixed greens in work perfectly. I poked holes with a knife in the bottom of all the containers except the egg crates because the cups are so small. I've been collecting these for a few weeks now. I encourage you to dig through your recycle bin and get creative.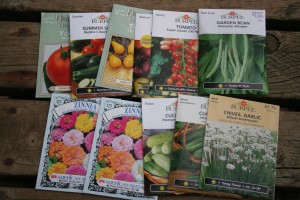 I don't normally grow everything from seeds and I suggest if you're just starting to garden to start some things like tomatoes from plants you buy at your garden store. I thought I'd be a little more adventurous this year and try to plant more from seeds. We'll see how it goes!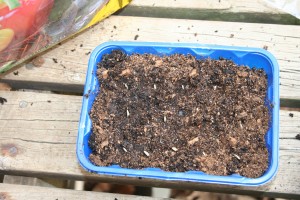 I used a combination of soils to start my container plantings indoors. When planting from seeds use some seed starting formula soil. It's available at garden stores and larger stores like Walmart that have a garden department. I mixed some of the seed starting formula with some potting soil. Follow the seed packet directions for the depth the seeds should be planted. Cover and water thoroughly (gradually for the ones in the egg cartons).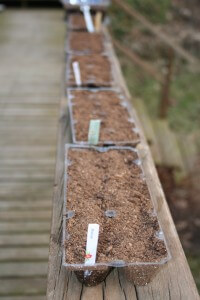 Make sure to keep the names of the plants with each container so you don't forget what's in each one.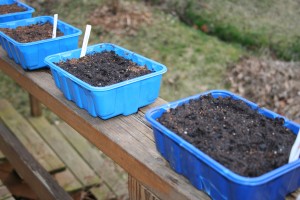 Bring them inside and place in windows that get sunlight. Seeds are supposed to begin to sprout in 7 to 14 days. I'm only on day 2 myself so I'll let you know how they work.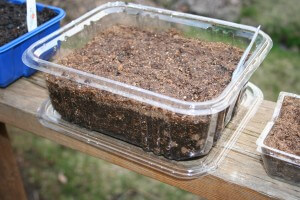 Make sure to put something underneath the containers that you poked holes in. The lids of some of the containers work really well for this purpose.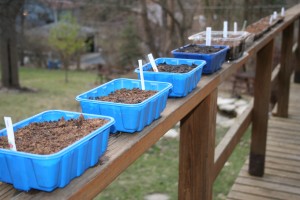 I hope this gets you excited to start your own planting this year. Gardening doesn't have to be anything major. You can start this year by just growing some tomatoes in pots and then add some more each year. Stay tuned and watch how my garden grows this year. Let me know how it goes!