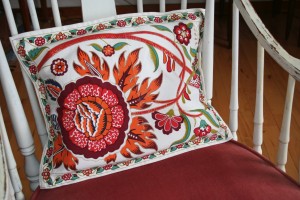 Over the last year I have continued to see and been enamored by throw pillows I've seen in home stores and magazines. Their beautifully patterned prints and various textured fabrics really make even the dullest of sofas really pop. I think of throw pillows like the special spice that really makes a recipe zing. They can just add so much.
My dilemma: I'm always attracted to the most expensive throw pillows. I like rich fabrics and expensive designer prints, but don't have the budget to add them to my own living room.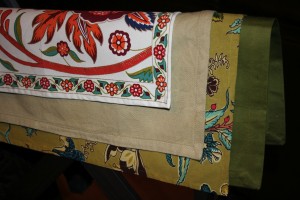 I kept thinking "why don't I just buy some fabric and make my own throw pillows?" I searched around online for fabrics that caught my attention, but again I seemed to like the fabrics that cost upwards of $40/ yard or even more. Again, out of my budget…I'm really frugal and sometimes just cheap.
My solution: One day I was walking through World Market and saw they had a clearance section of cloth napkins and cloth placemats and the light bulb went off! I loved the fabrics and prints and they were already the size of throw pillows. There was a nice blend solids and prints that coordinated well. At $1 to $3 each I decided I had nothing to lose.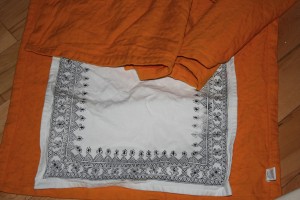 And my quest to turn these remnant cloth napkins and placemats into throw pillows began!
I wanted to make the throw pillow covers have a removable pillow insert so I could wash them. So, the only other thing I needed to buy was pillow stuffing and fabric for the insert pillows. I stopped by the craft store and a bag of pillow stuffing was anywhere from approximately $15 to $25. And I thought, yeah right…there has to be a cheaper way to make a pillow. And I found one. For $2 to $3 each I bought bed pillows from Walmart. Not only did I have my pillow stuffing, but also my cloth for the pillow inserts.
So, here's how I made my throw pillows and how you can make yours as well!
In addition to the fabric (napkins or placemats) and cheap pillows to pull apart for the stuffing and fabric,
you'll need a sewing machine, thread, pins, fabric scissors, and upholstery needle for your sewing machine (which I'd highly recommend using because when I used regular sized needles for my machine I broke 2 needles trying to make it work. Invest in the upholstery needles).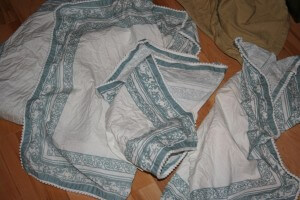 1. Wash the cloth napkins or cloth placemats first. This is really important as most of the fabrics will shrink a little and some more than others.
2. Find which fabric you want for the front of the pillow and which you want for the back. I suggest you use the napkin or placemat to its full size (don't fold it down to fit the backing fabric). The backing fabric needs to be a little larger than the front fabric.
3. Iron both pieces of fabric (check the tags' care directions first).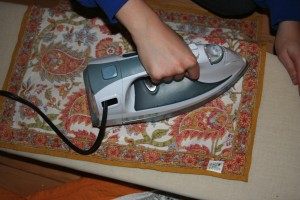 4. Using fabric scissors, cut the backing fabric in half where you want the opening for the pillow insert to be.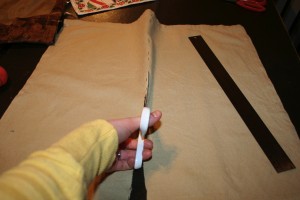 5. Pin back the un-hemmed edges you just cut and sew along those edges to finish them.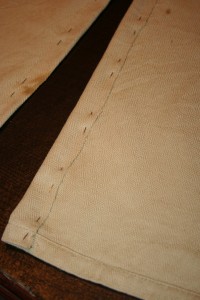 6. Line up outer edges of fabric, using the front fabric as a guide and starting in one corner. See photo below. Pin one of the short edges of the front and back face together, print sides out. And sew short sides of fabric together, on the inside of the fabrics edge.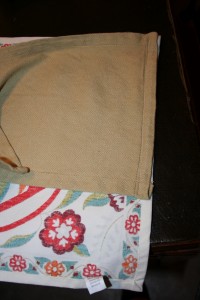 7. Pin the long side of both pieces of fabric together. Then fold under the backside fabric on the short end to align with the end of the front fabric, pulling taught, and pin along this edge. Sew along these edges on the inside of the finished edges of the fabrics. See photo below.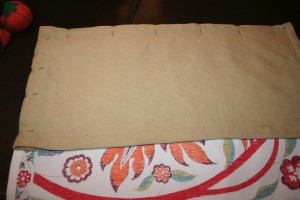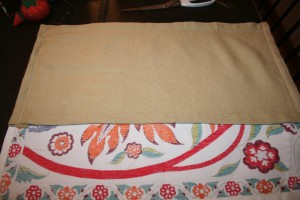 8. Repeat steps 6 and 7 with the other piece of backing fabric, overlapping the middle edges by at least 1 1/2″.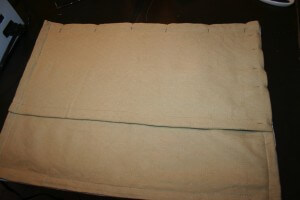 9. Create insert pillow by sewing two pieces of fabric together face sides in on three sides and half of the 4th side. Turn the fabric face side out. Stuff the pillow. The hand stitch the remaining opening.
10. Stuff the insert pillow into the pillow case and voila!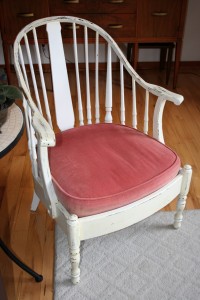 You've created a beautiful throw pillow that will turn a nice chair into a "Oh, what a cute chair"!