An Update:
I know its been a while, so thanks to all you faithful ones who keep checking back to see what's new. Fall is flying by for me…just got back from a sweet road trip to Dallas for a friend's wedding. Long drive, but saw lots of friends and family, which totally made it worth it!
I'm working on getting some handmade items up on etsy right now. They'll hopefully be debuting within the next couple weeks, just in time for the holidays. That's all I'll say for now, but I'll be dropping plenty of photos and links here on the blog soon so stay tuned!
That's an update about me, so let's get to it. As promised here is another type of squash and a tasty way to prepare it: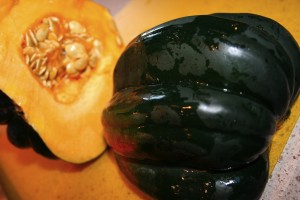 Acorn squash is in season and really abundant in your local grocery this time of year. This means you can generally get it pretty cheap. I love these tasty little guys because they are super easy to prepare, they taste like Fall, are a great alternative starch to potatoes, and they have a pretty long countertop lifetime (meaning you can buy one and leave it on your counter for a decent amount of time before it spoils).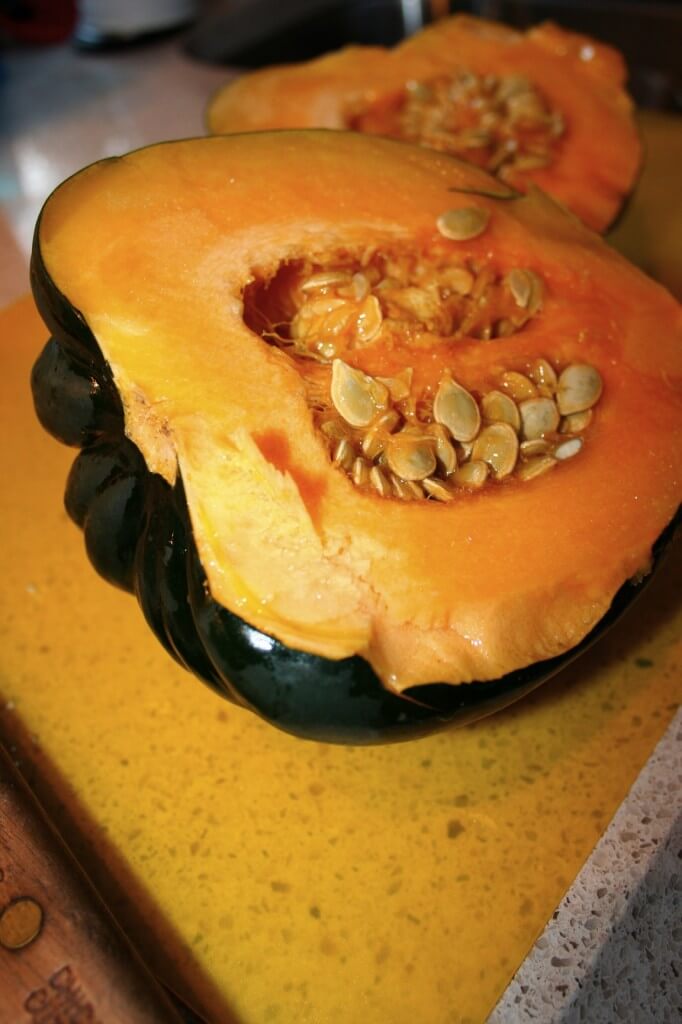 So, how do I prepare this Fall starch? Here we go…(major precursor to a super simple recipe)
This recipe is super Kid-Friendly. Its a sweet way to prepare this squash…My advice is to make sure that your kids see you add the brown sugar, maple syrup, or honey and maybe they'll be more inclined to dig in rather than frowning at a new veggie!
Ingredients:
1 medium sized acorn squash
1 to 2 tablespoons butter
1 1/2 teaspoons cinnamon
2 tablespoons brown sugar, or maple syrup, or honey (take your pick)
salt and pepper to taste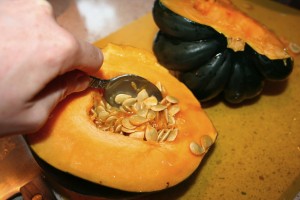 Directions:
1. Preheat oven to 400 degrees. Oh so careful cut the squash in half length wise (from top to bottom). This is a really hard squash so watch your fingers and use a large, sharp knife. Scoop out the center portion of the seeds and gooey stuff.
*Side Note: You can save the seeds and prepare the just like pumpkin seeds in the oven and they make a great snack.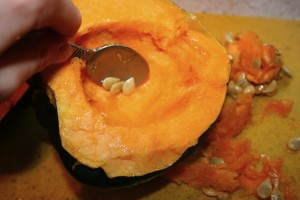 2. Place both halves of squash in a rimmed casserole dish with the dark skin side down, so it makes 2 little bowls. Fill the bottom on the baking dish with about a half inch of water.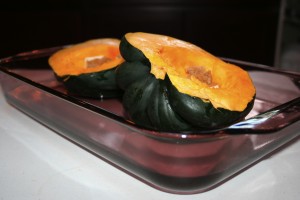 3. In each half of the squash bowls place 3/4 to 1 tablespoon of butter, 3/4 teaspoon cinnamon, 1 tablespoon of whatever sweet you've chosen and a dash of salt and pepper.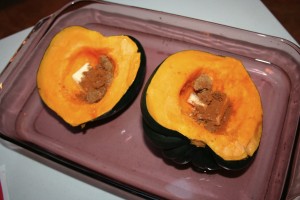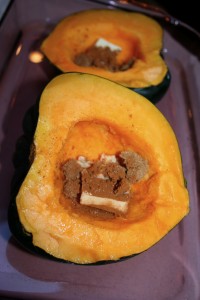 4. Bake in the oven for 1 hour to 1 hour and 15 minutes or until the orange inside of the squash is very tender. If all the water in the bottom of the dish evaporates make sure to add more. Remove from the oven carefully as to not slosh the hot water.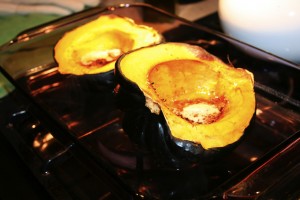 6. You can serve the squash at this point and let each person combine the squash with the butter, sweet, and spices or you can use a fork and combine the orange part of the squash with the tasty stuff before you serve. Just a side note, don't eat the green skin. Enjoy!
*For picky eaters I recommend mixing the squash and the tasty stuff before you serve and if necessary throw in a little more sweet and cinnamon.
*Recipe serves: 2 to 4 people depending on if you want to serve a squash bowl to each person and how large the squash itself is.
*Recipe Source: Madison Sommerfield