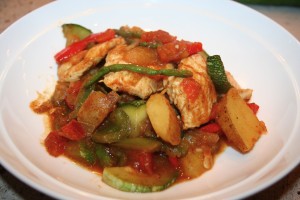 There is such a huge variety of vegetables that are abundant this time of year in gardens, farmer's markets, and supermarkets. And if you're like me, maybe you get a little excited and buy more vegetables than you can use for your meal. I recently ended up with more squash, asparagus, and green and red peppers than I needed for my meal. With these leftovers I wondered what I could make.
Growing up, Thursdays were always left-overs-for-dinner days at my house, which mostly meant find anything in the fridge to eat for dinner so nothing goes to waste. Well, here's a new version of left overs that's more appropriate for summer. This one uses all your left over vegetable odds and ends. So here's how I came up with this dish:
1) My first requirement when creating a meal out of these left over veggies was that I wanted the dish to display the great taste of summer that is all these fresh veggies, but I wanted them to blend to create a new unified flavor all their own.
2) My second requirement was to keep the amount of dishes I used to a minimum (no more time doing the dishes than absolutely necessary.)
3) The third requirement for this dish was that it had to fit my restricted diet (gluten free, egg free, dairy free.)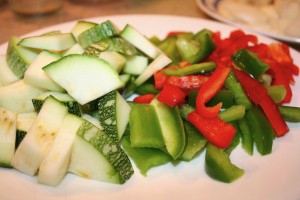 That's why this One Dish Fridge Roundup is the perfect summer dish. Hope you enjoy the fresh tastes of summer in one dish! I'm going to show you how I made mine but the whole point is to use what you have. So, if you have green beans rather than peppers use those and if you have salmon rather than chicken use that. Enjoy!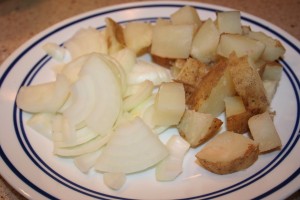 Ingredients:
1 potato (cooked just about 2 minutes in the microwave then cubed)
1/2 an onion, sliced
1/2 cup zucchini, chopped
1/2 cup peppers, roughly chopped
1/2 cup asparagus, chopped
1 cup tomatoes, chopped
1 chicken breast, pounded thin and cubed
1 teaspoon garlic, minced
Olive oil
Aunt Cora's Seasoning or season salt to taste
Lemon pepper to taste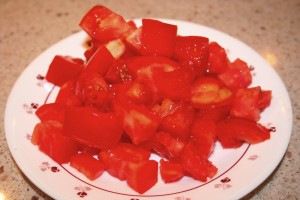 Directions:
1. Saute onion and potato in about 1 tablespoon olive oil in a large fry pan until onion is transparent and potato begins to soften, adding more oil if needed. Season to taste.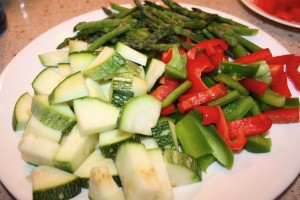 2. Add asparagus and peppers and stir adding just a little water to deglaze the pan. Cook for 1 to 2 minutes. Add garlic and season.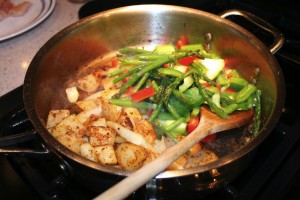 4. Add chicken and season. Cover and cook until chicken is cooked through, stirring occasionally. Serve and enjoy!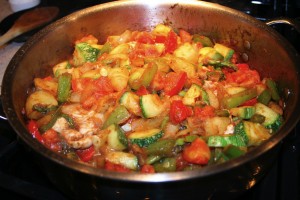 *Recipe serves: 4 people
*Recipe source: Madison Sommerfield