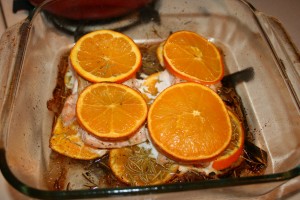 I love the fresh flavors of summer…Less prep, lots of fresh produce, and lighter meals, which means more time for fun in the sun! This Citrus Salmon recipe is one of my favorite ways to prepare not only salmon, but it works really well for a variety of white fish (like perch) as well. Its super simple and really delicious.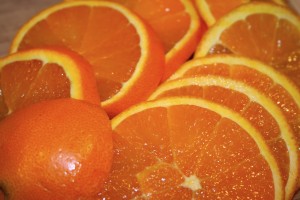 Just a few fresh ingredients and you're on your way to a delicious meal that tastes like it was a ton of work. Enjoy!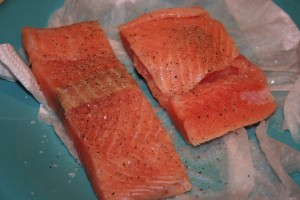 Ingredients:
2 salmon fillets (or other fish fillets, perch worked especially well with this recipe too)
Kosher salt and pepper to taste
Extra virgin olive oil (to drizzle)
1 orange sliced (you can also try this one with grapefruit as well)
Fresh rosemary sprigs (dried rosemary works fine as well)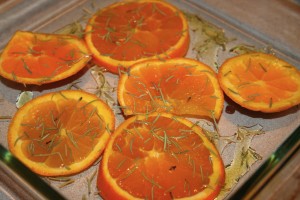 Directions:
1. Preheat oven to 400 degrees. Dry fish fillets with paper towel and sprinkle both sides with salt and pepper.
2. Drizzle a little olive oil in the bottom of a rimmed baking sheet. Arrange half the orange slices on the bottom of the pan. Sprinkle dried rosemary on top of oranges or place a few sprigs of fresh rosemary.
3. Place salmon fillets on top of orange slices. Sprinkle with more rosemary or place more rosemary sprigs on top of salmon.
4. Drizzle with a little more olive oil. Arrange remaining orange slices on top of fish fillets.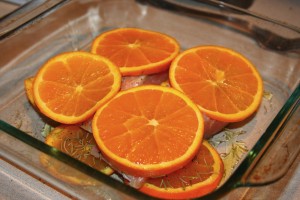 5. Bake in the oven for 20 to 25 minutes or until the fish fillets are light and flaky.
6. Serve with baked sweet potatoes and a fresh salad and enjoy!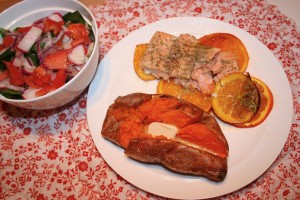 *Serves 2 people. I plan one fish fillets per person. Low in calories and full of flavor. Talk about an orange meal!