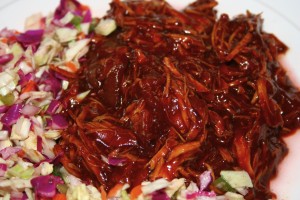 The weather is getting warmer, the days are longer, people are out mowing their lawns and to me this all means its time for summer food. You know BBQ, grilling, corn on the cob, raw veggies, fresh fruit, and pulled pork. Pulled pork has a fondness in my heart that reminds of the Indiana State Fair, BBQ joints down south, and lots of summer time fun.
This recipe for pulled pork is one that my hubby created. Our dream is to someday have a meat smoker and be able to make it in there someday. But, until then this slow cooker pulled pork recipe fits our busy lifestyle and satisfies the taste buds.
There are a couple ways you can go about making this recipe. One is super simple and only takes like 5 minutes of prep time. The other is a little more involved and is a great make-it- yourself BBQ sauce, but the flavor is worth the time investment. Pick one and enjoy!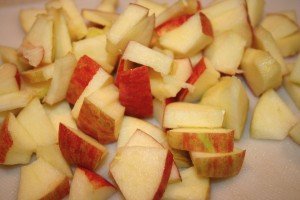 Ingredients for Apple BBQ Pulled Pork:
4 to 6 boneless pork chops
1 recipe Homemade Apple BBQ Sauce (or for the easy way use store bought BBQ sauce and one diced apple)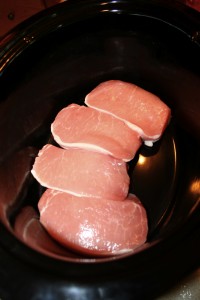 Homemade Apple BBQ Sauce Ingredients:
1 tablespoon butter
1 large sweet onion finely chopped
1 tablespoon red chili paste
1 1/2 cups ketchup
3 tablespoons molasses
3 tablespoons brown sugar
2 tablespoons yellow mustard
1 tablespoon Worcestershire sauce
1 lemon, juiced
1 clove minced garlic
1 tablespoon black pepper
1 jalapeno pepper finely chopped (seeds removed)
1 large honey crisp (or similar apple), peeled, cored and diced
Directions for Homemade Apple BBQ Sauce:
Combine all ingredients in a large pot. Bring to a boil then simmer for 20 minutes.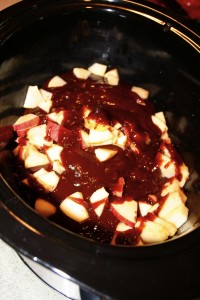 Directions:
1. Add pork chops to slow cooker. Cover with Homemade Apple BBQ Sauce or with store bought BBQ sauce and one diced apple.
2. Cook on low for 5 to 6 hours. Flip pork every hour if you can. If you'll be unable to attend the pork for more than 5 hours, set the slow cooker's timer to 5 hours and then it will keep it on warm until you get home.
3. Shred meat with two forks and mix with sauce to reincorporate.
4. Serve pulled pork on buns or without if you can't eat the bread. I love to serve this recipe with homemade cole slaw (that recipe to come at a later date).