I thought I'd post this recipe today that I created myself. Its really simple, quick to make, and very flavorful. I love salmon and I'm always trying new ways to prepare it. For this recipe I just pulled together ingredients I had in my fridge and pantry at the time.
I really enjoy preparing salmon as it already has such a nice flavor, its kind of hard to mess it up. Hope this one hits your taste buds just right! This recipe serves 2 people.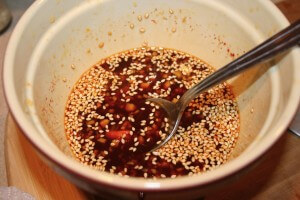 Ingredients:
1 teaspoon rice vinegar
1 orange, juiced
1 teaspoon gluten free soy sauce
1 teaspoon sesame seeds
1/2 teaspoon garlic, minced
1 tablespoon ginger, minced
1/4 cup cilantro, chopped
2 salmon fillets (about 5 oz. each)
1 tablespoon olive oil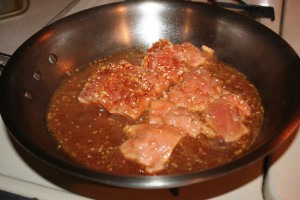 Directions:
1. Combine orange juice, rice vinegar, soy sauce, sesame seeds, garlic and ginger in a small bowl.
2. Heat oil in skillet over medium heat. Add salmon fillets and pour 3/4 the sauce over the fillets.
3. Cook a couple minutes until the bottom half of the salmon begins to brown. Then flip fillets and finish cooking through until flaky.
4. Serve salmon fillets with sauce over chopped cilantro. Enjoy!