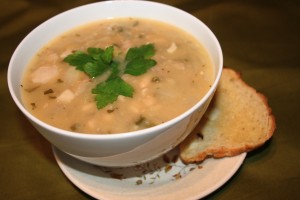 There's nothing more comforting, as far as food goes, than a big bowl of chili on a cool day after a hard days' work. And this White Chicken Chili is a wonderful more "Springy" version of your red winter chili with ground beef. This one is a little lighter and is perfect for these Spring days when the evenings are still chilly. It uses fresh ingredients that keep it light, yet full of flavor.
This recipe serves 6 people, is relatively quick to make (about 30 minutes), and makes great left-overs.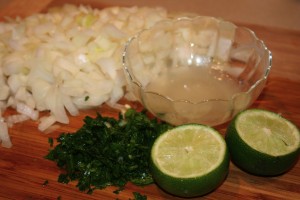 Ingredients:
1 medium onion, chopped
1 jalapeno, seeded and chopped
2 garlic cloves, minced
1 tablespoon vegetable oil
4 cups chicken broth
2 cans (15 1/2 oz. each) Great Northern Beans, rinsed and drained
2 tablespoons minced parsley
1 tablespoon lime juice
1 teaspoon lime juice
1 teaspoon ground cumin
2 tablespoons cornstarch
1/4 cup cold water
2 cups cubed chicken cooked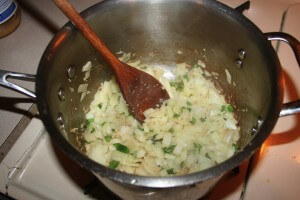 Directions:
1. In a large saucepan saute the cubed chicken with a little oil, salt and pepper. Remove chicken when cooked and set aside.
2. In the same saucepan cook onion, jalapeno and garlic in oil until tender.
3. Stir in broth, beans, parsley, lime juice and cumin; bring to a boil. Reduce heat; cover and simmer for 10 minutes, stirring occasionally.
4. Combine cornstarch and water until smooth; stir into chili. Add chicken. Bring to a boil; cook and stir for 2 minutes or until thickened. Serve and Enjoy!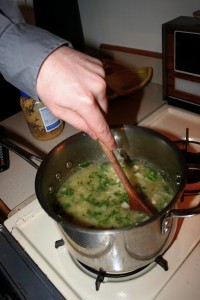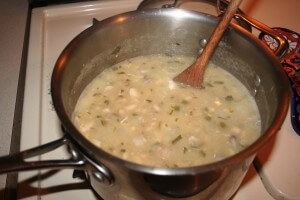 This White Chicken Chili is great served with gluten free bread toasted with butter of gluten free cornbread with melted butter. You might also try this one with fresh cilantro rather than the parsley.
*Recipe source: Indianapolis Star, Joanie Fuson adapted from Taste of Home's Big Book of Soup, Reiman Media Group