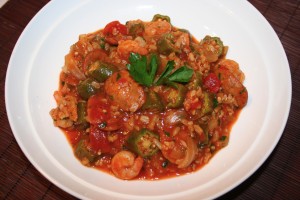 As promised here is how I used okra in my cooking. I made this very tasty Jambalaya. This version of this famous Cajun dish combines the spicy flavors of the andouille sausage and cayenne pepper, but is balanced perfectly for your palette with the flavors of the shrimp, okra, tomatoes and rice.
I especially love this one because its a one-pot meal that serves 4 to 6 people. If you're like me and you have less people to serve, you can still make the full batch and enjoy the rest for tasty leftovers. It looks like a lot of ingredients, but most are canned goods or common items in your spice rack, so don't be intimidated. This is truly allergen-free comfort food!
*If you're not a fan of shrimp you can substitute them for 4-6 bone-in chicken thighs. Check out the note at the bottom of the recipe to see how to make this substitution.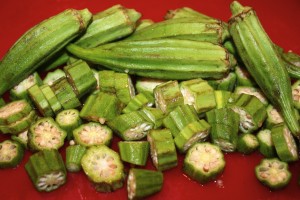 Ingredients:
1 tablespoon olive oil
1 large onion, diced
2 cloves garlic, minced
6 ounces gluten free Andouille Sausage, sliced (I used Trader Joe's Chicken Andouille Sausages)
1 cup uncooked long grain rice, rinsed
2 cups gluten free chicken broth
1 (14.5 oz) can chopped tomatoes in juice
1/4 cup tomato sauce
1 pound raw shrimp, peeled and de-veined
1/4 teaspoon cayenne pepper, to taste
1/2 teaspoon dried oregano
1/2 teaspoon dried thyme
1/4 teaspoon pepper
1/2 cup fresh parsley, chopped
1 cup chopped okra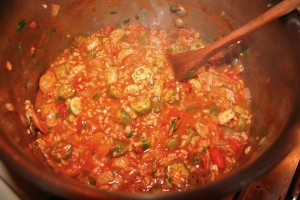 Directions:
1. Saute okra with a little oil in a large sauce pan, stirring frequently until slightly cooked. Set aside.
2. In the same pan heat olive oil. Add onions and sausage and saute for 5 minutes, stirring often and adding more oil if needed. Add uncooked rice and cook for 2 minutes.
3. Add chicken broth, tomatoes with liquid and tomato sauce and cook over medium heat until mixture begins to boil. Reduce to simmer; cover and cook for 20 to 25 minutes.
4. Add shrimp, spices and cook for 5 minutes more. Stir in cooked okra. Taste and adjust seasonings. Garnish with parsley and serve!
*To make this recipe with bone-in chicken thighs instead of shrimp, simply follow the recipe directions up to step 3 then when the temperature is reduced to a simmer place chicken pieces on top of rice mixture. Then cover and simmer mixture for 25 minutes and continue the remaining steps of the recipe.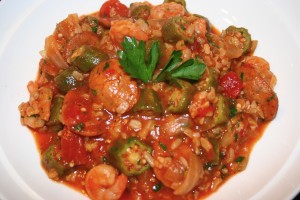 *Recipe Source: Living Without: Gluten-Free, Dairy-Free Recipes, Naturally Sweetened, February/ March 2011, Article: One-Pot Meals, by Sueson Vess