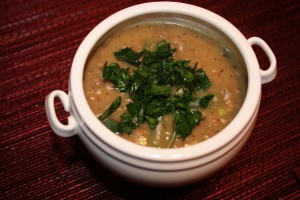 The sun is shining, the birds are chirping, and the grass is slowly changing from brown to green, but old man winter isn't going down without a fight this year. Although Spring is here, its been pretty cold in the Chicagoland area over the last week. So warm, hearty soup really hit the spot for me this week. This recipe incorporates some fresh, almost Spring ingredients, while providing that "warm you from the inside out" feeling that is so satisfying when its cold outside.
I hope this one will keep you warm until Spring weather actually turns the bend and old man winter finally gives up for the year.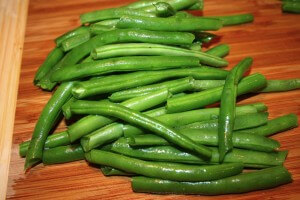 Ingredients:
1 pound GF pork sausage (links cut into 1/4 inch slices or ground sausage will work) (I used ground GF Italian sausage)
1 cup celery, sliced
1/2 cup onion, chopped
1/2 teaspoon dried thyme
1/2 teaspoon salt
2 tablespoons GF all purpose flour
14 1/2 ounces GF chicken broth
1/2 cup water
4 medium potatoes, diced (4 cups worth) (I left the skins on because of the nutrient value in the skins)
1 cup milk (or unsweetened milk substitute) (I used rice milk)
1 cup green beans, sliced and partially cooked
Chopped fresh parsley for garnish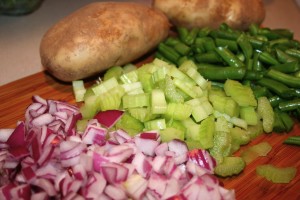 Directions:
1. If you're using fresh green beans snap the ends off and cut them into bite sized pieces (see photo below). Blanch the green beans by bringing a small pot of water to a boil. Add some salt and boil the green beans until they turn bright green and soft.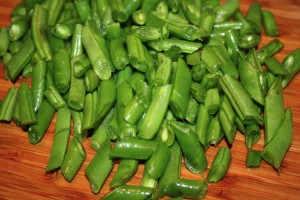 2. In a heavy saucepan brown sausage over medium heat. Remove sausage and set aside. Drain all but 1 tablespoon drippings.
3. Saute celery, onion, thyme and salt until onion is tender. If veggies start to stick add a little olive oil.
4. Stir in flour and cook for 1 minute. Gradually add broth and water, stirring until the mixture comes to a boil.
5. Add potatoes; cover and simmer 25 minutes or until potatoes are tender. Add a little more water if it becomes too thick. Stir often.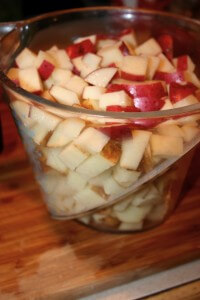 6. Use a submersion blender to puree the soup. Or if you don't have a submersion blender allow soup to cool a little and then puree it in batches in a blender.
7. Add milk, beans and sausage into the saucepan. Heat through. Then serve with garnish of fresh parsley. Enjoy!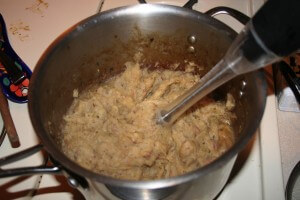 I know it looks a little like gravy, but it has a really delicious flavor. If it gets a little thick you can add a little more milk to thin it. This recipe serves 4 people.
*Recipe Source: The Country Cooking Recipe Collection, Prize-winning Soups & Sandwiches, 1993 edition, Submitted by Dorothy Althause, Magalia, California
*GF= Gluten Free