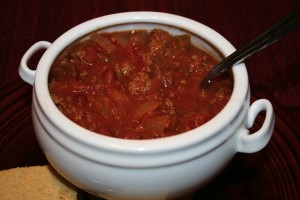 Because its a winter wonderland here today I thought what could be a better recipe to share than chili?
And not just any chili, but Slow Cooker Chunky Chili!
This chili is certain to warm you right up during these cold winter days and you throw all the ingredients in your slow cooker and when you come home, its hot and ready to enjoy.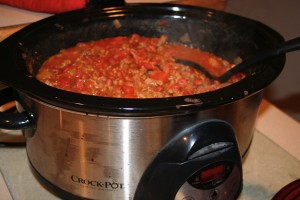 Ingredients:
1 pound 90% lean ground beef
1 medium onion, chopped
1 tablespoon chili powder
1 1/2 teaspoons ground cumin
2 cans (16 oz. each) diced tomatoes, undrained
1 can (15 oz.) pinto beans, rinsed and drained
1/2 cup prepared salsa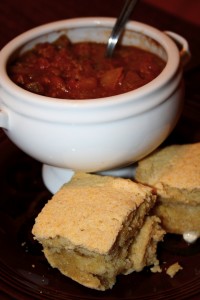 Directions:
1. Heat large skillet over medium heat. Add beef and onions, cook until beef is browned and onion is tender. Drain fat.
2. Place beef mixture, chili powder, tomatoes, beans and salsa into slow cooker; stir.
3. Cover and cook on low 5 to 6 hours or until flavors are blended. Stir occasionally if possible.
I've cooked it for 4 hours on high before, but stir more often. A double batch works great for lots of left overs.
I serve this delicious chili with Bob's Red Mill brand cornbread….Mmmmm Good!
* Recipe Source: Rival Crock Pot Slow Cooker Recipes