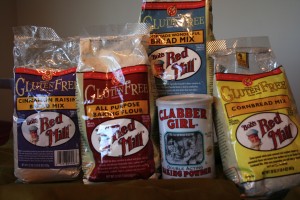 Tip 3: Know your GF substitutes!
So, you find out you have to go GF and you think I'll never eat pasta, pizza, bread, cakes, cookies, or pastries again!
Thanks to the huge rise in the availability of GF products you can eat all of these things, just with substitute products.
What is a GF substitute/ product?
GF substitutes and products are processed in factories apart from where they can be contaminated by gluten.
GF substitutes replace the wheat, rye, and barley flour in a product with alternate flours. The alternate flours generally include rice, bean, tapioca, corn, and potato flours. The trick is that generally these flours must be used in combination to achieve the proper texture.
You can buy the flours individually and blend your own as specified in a GF cookbook to use in recipes
Buy a GF All Purpose Flour to use as a replacement for wheat flour in a recipe
Or buy a pre-package GF mix for whatever you want to make
I use all 3 of these methods, but the easiest is to just buy a GF mix for brownies, corn muffins, bread, cookies, oatmeal, etc. My favorite brand of GF mixes and flours is Bob's Red Mill, but there are a lot of brands making GF products now.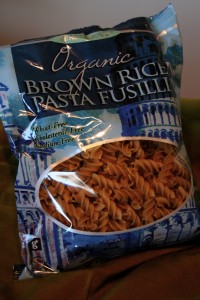 GF pasta is generally made from brown rice and is available at grocery stores that have a health food/ GF aisle. Don't over cook it and cook with the lid off.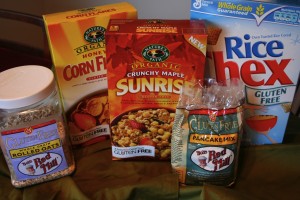 GF cereals, oats, and pancake/ waffle mixes are great options for breakfast.
Hope these GF options help add more great food to your diet!