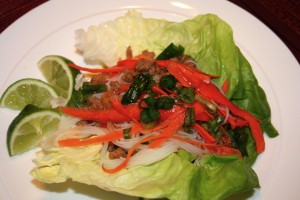 I love this recipe for lettuce wraps. Its a perfect quick and fun to eat dinner for a Friday night eating in rather than ordering take-out! It not only, follows my restricted diet (no gluten, egg, dairy, etc.), but its a really light meal that's low in fat, but filled with tons of flavor. Hope you'll enjoy these lettuce wraps sometime this weekend!
Ingredients:
1/4 cup soy sauce (GF)
4 teaspoons fish sauce (this stuff is especially pungent, but does add good flavor to the meal, I suggest only using 2 teaspoons though)
4 teaspoons sugar
1 tablespoon vegetable oil
1 large shallot, finely chopped
2 tablespoons minced peeled fresh ginger
2 garlic cloves, minced
1 small jalapeno or serrano chile, seeded and finely chopped
1 pound ground turkey (lean)
2 large heads Bibb, Boston, or Iceberg lettuce, leaves separated
Rice or oriental rice noodles, limes, and sliced/ peeled carrots and green onions for filling options
Directions:
1. In small bowl combine soy sauce, fish sauce, and sugar and stir until sugar dissolves. Set sauce aside.
2. Heat a large skillet or wok on high heat until hot. Add oil and swirl to coat skillet. Add shallot, ginger, garlic, and chile and stir until fragrant, about 30 seconds. Add turkey and cook, breaking up meat with a wooden spoon, until almost cooked through, 5 minutes. Add half the sauce to skillet and stir until meat s cooked through, about 2 minutes. Serve in lettuce leaves with filling options and sauce.