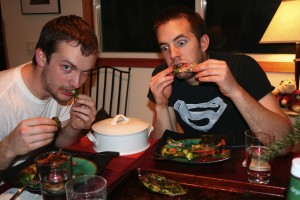 A Healthy Recipe the Guys Will Love: Roasted Chicken with Chimichurri Rub
I've been asked over the last few days about how to get picky eaters to eat healthy food. So, here is a recipe your guy or kids (or whoever your picky eater is) will love.
I found this recipe from Martha Stewart and made it last night for dinner. As you can see my hubby Matt (in the black shirt) and our friend Matt loved it. They just finished an intense hour and a half work out session, so a hearty meal was a must (no rabbit food for these guys). With a few ingredients this recipe makes a deliciously healthy, yet hearty meal.
Here's how to make it!
Ingredients:
1 whole chicken (3 1/2 to 4 pounds) cut into 10 pieces (if anyone needs a demo on how to butcher a whole chicken into pieces let me know and I'll do a post)
1 recipe Chimichurri (see below)
coarse salt and ground pepper
Chimichurri Rub:
In a food processor (if you try it in a blender, you'll need to add more liquid and chop ingredients first), combine 3 garlic cloves, roughly chopped, 1/2 teaspoon red pepper flakes, 1 tablespoon red-wine vinegar, 1 bunch flat leaf parsley, stems removed, and 1 tablespoon extra virgin olive oil. Process until finely chopped, 2 minutes, scraping down sides as needed. Makes 3/4 cup.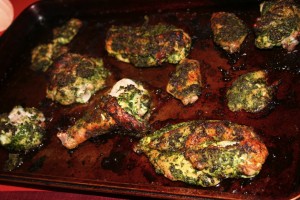 Directions:
Preheat oven to 450 degrees. Arrange chicken pieces in a single layer on a rimmed baking sheet and coat all over with herb rub and salt and pepper. I pulled the skin back on each piece and put salt, pepper, and the rub under the skin, as well as on the outside of the skin. Roast, skin side up, until chicken is cooked through, 35 minutes. Enjoy!
Cut calories option: Save calories by removing the chicken skin before you eat it.
Serve with: I served the Roasted Chicken with Chimicurri Rub with Baked Sweet Potato Fries and Sauteed Brussel Sprouts. Recipes for these to follow in upcoming posts. And yes the guys even downed the brussel sprouts!
*Recipe from Everyday Food: A Martha Stewart Magazine, January/February 2011 Edition