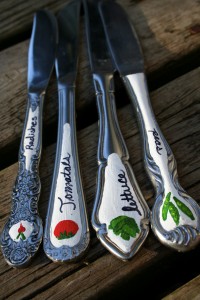 This year has been a perfect growing season in the Chicagoland area, hot sunny days and plenty of rain. My garden is growing nicely. My hubby and I decided to plant such a variety of produce in our garden and I'm always loosing track of what's planted where. So, I decided I needed garden stakes to mark each item. You know me…I never really think, "oh I'll just go buy that." I'm such a do-it-yourselfer, I always seem to think "how can I make it."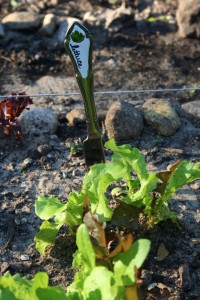 I stopped by the thrift store and found tons of dinner knives (odds and ends from many different sets) and bought a hand full. I broke out my acrylic paints and painted away. To prevent the paint from peeling off of the metal I double coating each knife with water based polycrylic.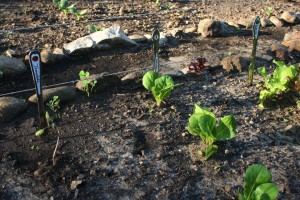 I love this Re-purpose It project because it gives these old unwanted items a new life! Talk about 'Going Green,' I think Re-purposing old items is the ultimate way to 'Go Green.' The various shapes and details on each knife really makes for such a wonderful variety.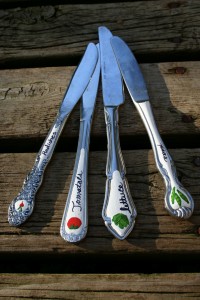 Dinner knives work perfectly for these Garden Stakes because the knife end holds really well into the ground. Hope you feel inspired today!