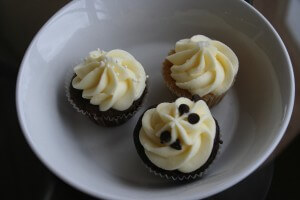 Who doesn't love cupcakes? I know I do. Well, today I had the privilege to take part in an allergen free cupcake tasting.
A friend of mine, Cheyne (pronounced Shane), is a cake artist who is just beginning to launch an allergen free line of cupcakes. Cheyne turned his passion for creating beautifully sculpted cakes into his business called Compelling Cakes. He not only creates beautiful occasion cakes, but bakes delicious cupcakes, or so I heard from everyone else because I could never eat them.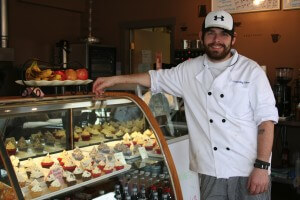 After telling him my personal frustration and disappointment of finding gluten free baked goods that contain eggs and dairy (other top allergens) at local bakeries, he decided to create an allergen free line that both me and another allergen free friend could both eat. He's been working hard at perfected his allergen free line of cupcakes and his hard work has paid off.
Cheyne held his first allergen free cupcake tasting earlier this afternoon at Cafe Firefly in downtown Algonquin (IL), where Cheyne's cupcakes and other baked goods can be found. He invited the local allergen free crowd to sample his cupcakes and can I just say….yummm!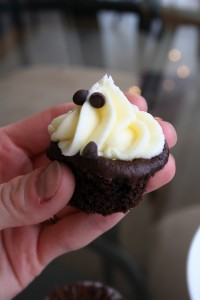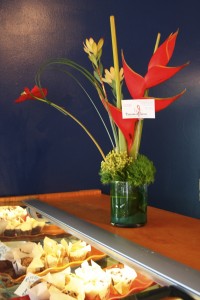 I just had to share this beautiful arrangement that John Regan of Twisted Stem Floral in Crystal Lake sent along to Cheyne to congratulate him on his new line of cupcakes and to have in the cafe for the tasting. Its a gorgeous arrangement and looks great on the cafe's counter. Great addition to the tasting; I just love flowers!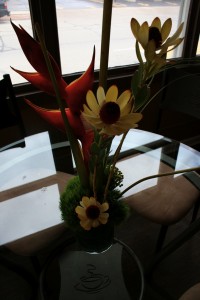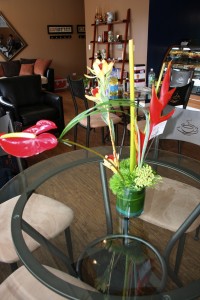 At the tasting I got to sample Cheyne's allergen free chocolate cupcake, salted caramel cupcake, and chocolate bourbon cupcake. It was a delicious afternoon! The cupcakes were actually moist, light and fluffy and the icing was smooth and sweet. Texture is always difficult with allergen free baked goods, but Cheyne nailed it. I'm so excited to be able to actually go to a coffee shop and buy a cupcake! Another simple joy added back into my life.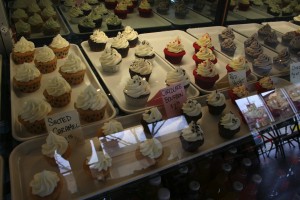 At the tasting Cheyne had all the ingredients out that he used for the cupcakes, just in case there were any questions. Great idea when you're baking for people with food allergies.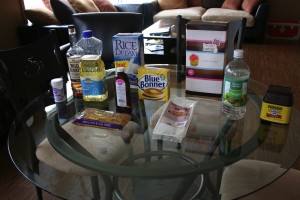 His allergen free cupcakes will be for sale really soon, so make sure to follow him on Facebook (Compelling Cakes) to stay tuned. Or stop in to Cafe Firefly to check out the regular cupcakes he has available right now.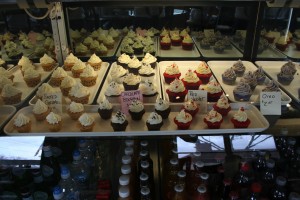 Even better, if you're in the area (Algonquin, IL) next week you can take part in the second allergen free cupcake tasting he's having. The tasting will be held next Tuesday, March 28th at 10 am at Cafe Firefly . Please let Cheyne know if you plan to come by dropping him a line on his Facebook page, Compelling Cakes. Thanks to Cheyne for the tasty allergen free cupcakes this afternoon. As a part of the allergen free community thank you, thank you for giving all of us another option!
*Compelling Cakes allergen free cupcake line stays away from gluten, eggs, and dairy. Please follow up with Cheyne at Compelling Cakes on Facebook for more details.