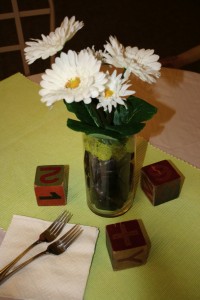 As promised earlier this week, here are the pics from Baby Shower last weekend that I did the decor for (with lots of help from friends may I add). I searched around the craft store for about an hour trying to find the perfect thing. Again, it had to be not "babyie" it needed to look fresh and welcoming and be gender neutral. We didn't want to spend a bundle on decor, but wanted it to be really special. So, here is how it all came together.
Five of the table had the center piece shown above. A small bunch of silk daisies, in a clear cylinder vase filled with natural stones and green moss. A friend had a bunch of the antique baby blocks that added a beautiful touch to each table.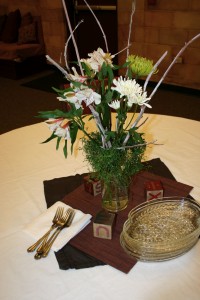 For 2 of the centerpieces I bought 2 bunches of fresh flowers (one for each vase) and had these twigs I painted white for a winter centerpiece. I placed them together in taller clear cylinder vases and stuffed a little green spanish moss to pour out of the top (holding the stems all in place).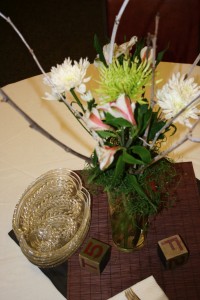 Earthy and simple!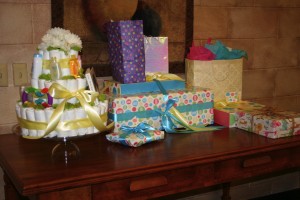 The diaper cake was elegantly placed on a cake stand with a clear plater on top (nice touch June) on the gift table!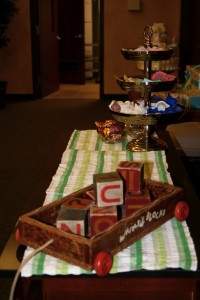 On the drink table sat an antique baby wagon with more of the antique baby blocks, a colorful runner (really placemats we pulled together), and a 3 tiered stand with chocolates and coffee accessories.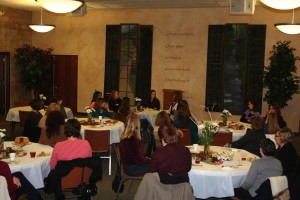 Eating, chatting, laughing, and loving on the mom-to-be!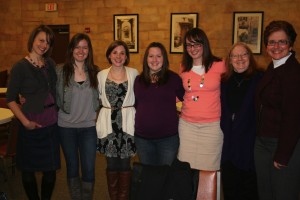 A great time celebrating a wonderful blessing in life! Great job ladies for pulling off a wonderful shower! Only a month until we'll all get to meet the new little one!