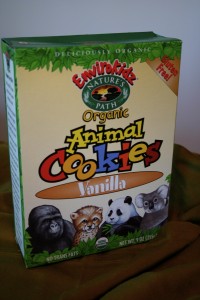 Here's another product to add to your GF food index.
For those of us with restricted diets, the simple things in life like animal cookies that fit our restricted diets can be seriously exciting! This one is especially for those who have kids that have to be GF. Every kid should get to partake in the simple joys of being a kid, like eating animal cookies. Here's good news for all the GF kids and those of us who are GF and young at heart.
I love the brand Nature's Path because they provide great tasting GF options. Their line, Envirokidz, gives GF kids food options that specifically appeal to them. Their GF Organic Animal Cookies (Vanilla) are a tasty snack for those of us young and old.
You can pick up these animal cookies from your local health food store. I've also found them at my local grocery store that has a GF section and even at Walmart nearby that has a GF section.
Hope this opens up your GF food options!