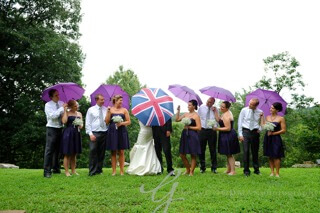 I'm lunching a new segment today called Wedding Bliss showing great creative wedding ideas with everything from dresses, photo ideas, flowers, venues, cakes, decor, and reception and ceremony ideas. Whether you're looking for wedding ideas for yourself or someone else, or you're like me and you just love looking at weddings, you'll love this new segment!
To kick off my first post my roomie from college, Shelly Goodman, was so kind to send me photos from one of the weddings she photographed. Shelly and her husband, Andy, run their wedding photography business out of St. Louis. I'm so excited to be able to post these beautiful images they photographed. Make sure to check out Shelly's website…She's definitely got a great artistic eye and the photography skills to go with it! www.shellygoodmanphotography.com/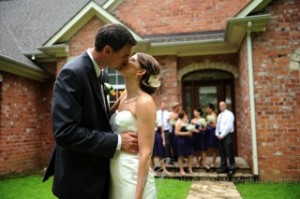 This bride had a challenge cut out for her in that her husband to be is from England, making this wedding An International Event.
Her Big Challenge: Half of her guests were coming from over sees and staying for an extended period of time, which could have meant huge hotel bills and transportation challenges.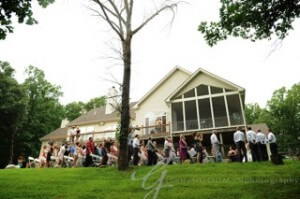 Her Solution: This happy couple decided to use this wedding challenge to make their big day unique and more intimate. They decided to rent this beautiful house on a golf course, as not only a place for their guests to stay, but also their wedding ceremony and reception venue.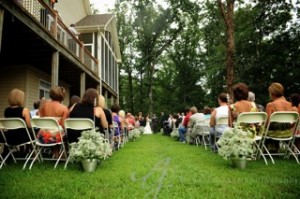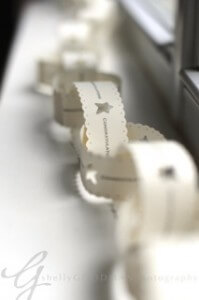 Challenge Bonus: The best part about this solution was that their family was all at the venue on time and they helped decorate the day of!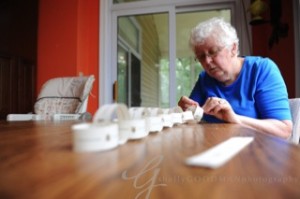 This bride used simple bouquets and flower arrangements, creating bright and airy arrangements with personal touches.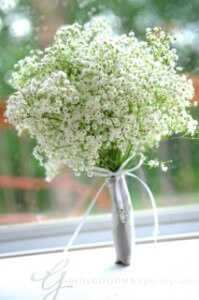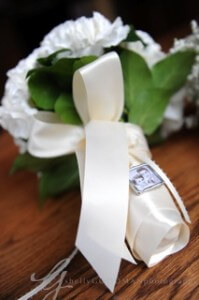 The Bride's bouquet included a special family photo to add a personal touch to her bouquet.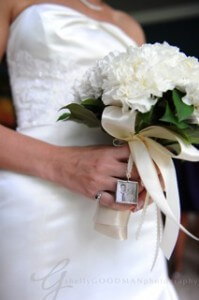 She carried the Queen Anee's Lace (flower) from her bride's maid's bouquets to the flowers lining the aisle for the ceremony.
So simple and elegant!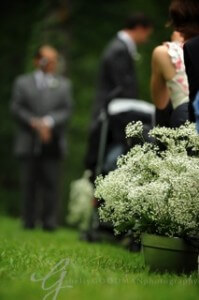 No tiara and veil for this bride. She wanted something a little less traditional, so she found the perfect feather hairpiece on www.etsy.com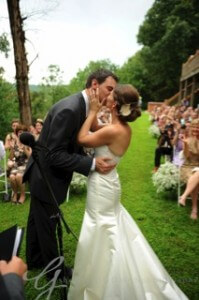 Check out the rest of these great details from the Lego Bridal Party next to the guest book, the unusual ring pillow, and the sign pointing the way to the wedding.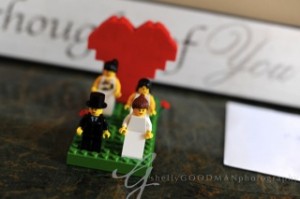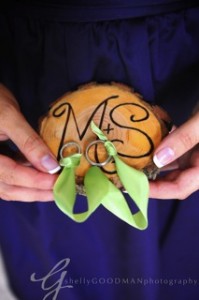 Thanks to Shelly for sharing these beautiful wedding photos they truly are Wedding Bliss!