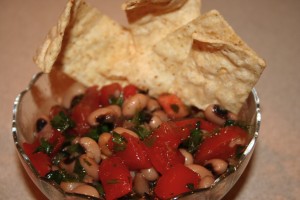 Its a southern tradition to eat black-eyed peas on New Year's Eve, as good luck in the year to come. This year for New Year's Eve I wanted to use black-eyed peas in some dish because its tradition, but one that people would actually eat and enjoy.
So, my criteria for a recipe was as follows: it had to include black-eyed peas, it had to be tasty enough that people would eat it and enjoy it, and it had to follow my restricted diet. This is the recipe I made and it was a hit!
The great part about this recipe is that its a salsa and the black-eyed peas add some protein. The left overs are great as a filling in a tortilla as a snack or part of a lunch. The black-eyed peas make it more filling too. This has become a new favorite for me!
Ingredients:
1 can (15 oz.) black-eyed peas, rinsed and drained (I used dried black-eyed peas, soaked and cooked them)
4 green onions chopped
2 tablespoons white sugar (I only used 1 Tablespoon)
1/4 cup olive oil
2 garlic cloves, minced
2 roma (plum) tomatoes chopped
1/2 bunch cilantro chopped
3 tablespoons balsamic vinegar
1/4 teaspoon salt
minced jalapeno pepper to taste (optional)
Directions:
Mix all ingredients together. Cover and chill at least 6 hours, then serve with tortilla chips and enjoy!
Recipe Source: www.allrecipes.com/Recipe/Black-Eyed-Pea-Dip-2/Detail.aspx