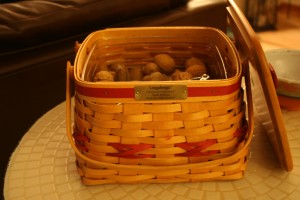 My husband and I love having friends over, but I never seemed to have snacks on hand to offer especially for last minute movie nights. I like to have at least a little something to offer guests, especially during these cold winter months. I need something nonperishable that I can leave out…Solution: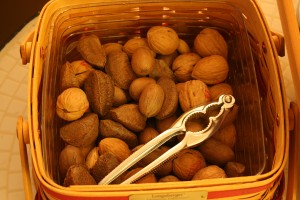 I was in the grocery one day and saw these shelled nuts you can buy by the pound. I never really even thought to buy them because I can't eat them. With my husband on a high protein diet and needing a snack to munch in the evening and my need for snacks to have on hand for guests, I had a light bulb moment and bought a few different kinds (walnuts, filberts, brazil nuts, almonds, and pecans).
I got them home and wondered what I was going to put them in. I need them sitting out, easily available and covered so they don't get all dusty. Solution: A Longaberger basket my Aunt Peggy gave me. I keep it out on a side table or coffee table in my living room with a nutcracker inside and a decorative bowl next to it for the shells.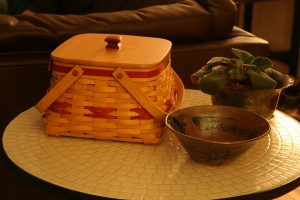 This solution has become both a healthy snack for my husband and guests and decor in my living room.
Its always there, so I don't have to get it out for guests.
And I know it doesn't follow my restricted diet, but my secret: I keep a bag of pistachios in my pantry for me…shhhh, don't tell!