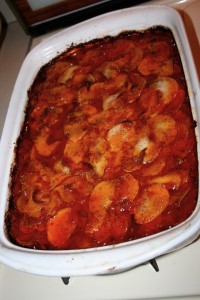 I woke up this morning and its snowing again. Don't get me wrong, if its going to be freezing cold at least the snow is pretty. But I'm ready for Spring and unfortunately its still January. So, I thought since its still cold and snowy out you might enjoy a hearty warm meal even on a restricted diet.
This Savory Cottage Pie is warm and filling to give you lots of energy during these frigid months. Its easy to make, follows my restricted diet, and is a great all-in-one meal for a larger group as well. So enjoy!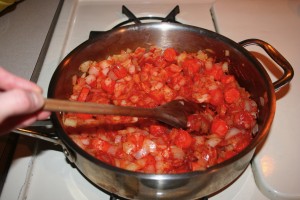 Ingredients:
3 tablespoons unsalted butter
1 large yellow onion, diced medium
2 carrots, cut into 3/4-inch pieces
Coarse salt and ground pepper
2 tablespoons tomato paste
1 pound ground beef, lamb, or turkey
2 teaspoons thyme
1 cup gluten free beer, you can also use beef stock
2 tablespoons gluten free all-purpose flour (I use Bob's Red Mill brand)
3/4 cup frozen peas
1 large russet potato (3/4 pound), very thinly sliced (I use a mandalin to slice it thin)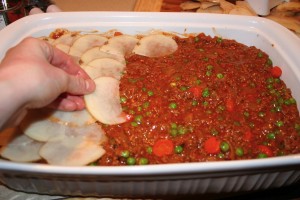 1. Preheat oven to 400 degrees. In large skillet heat 1 tablespoon butter over medium-high.
2. Add onions and carrots and cook, stirring often, until onion is soft, 5 minutes. Season with salt and pepper.
3. Add meat and cook, breaking up with wooden spoon, until almost cooked through, 3 minutes. Drain fat.
4. Add tomato paste, thyme, and beer or stock and bring to a boil. Cook, stirring frequently, until slightly reduced, 2 minutes.
5. Sprinkle flour over mixture and stir to combine. Add 1 cup water and cook until mixture thickens, about 2 minutes.
6. Stir in peas and season with salt and pepper.
7. Transfer mixture to a 2 quart baking dish.
8. Top with potatoes, overlapping slices. Season potatoes with salt and pepper and drizzle 2 tablespoons melted butter on top.
9. Bake until potatoes are browned around edges and tender, 40 to 45 minutes. Let cool 10 minutes and serve.
*Recipe says it serves 6. I found it serves more like 4. I made 1 1/2 times the recipe (shown) to feed 5 and have left overs.
*Recipe source: Martha Stewart's Everyday Food: November 2010 Issue.