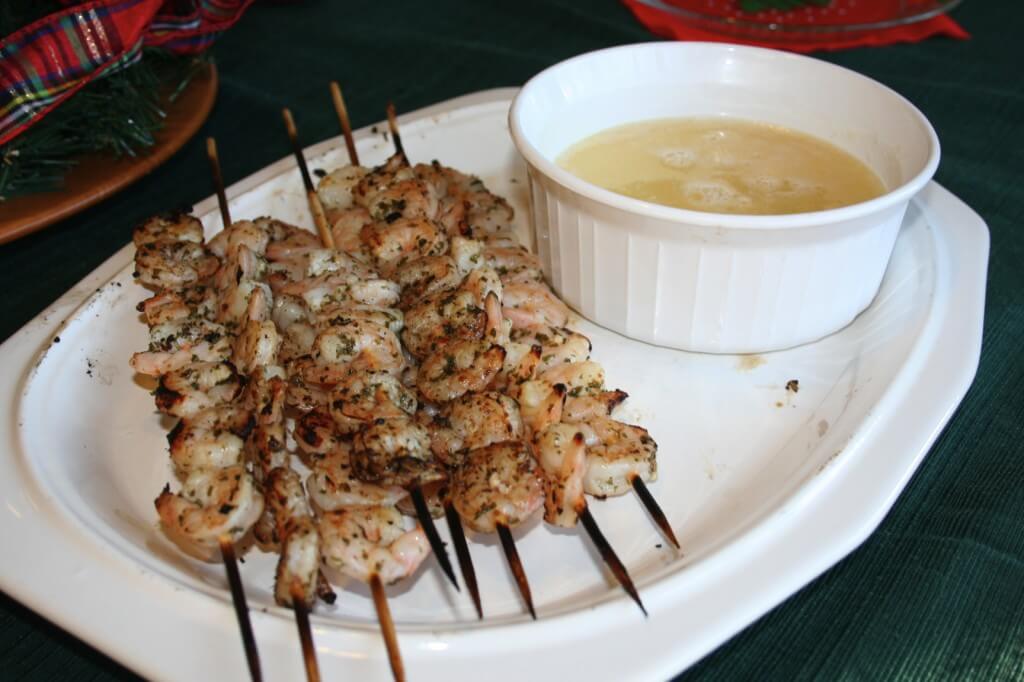 I'm generally not into football or the Super Bowl, but this year's a little different because Super Bowl 2012 is in my hometown, Indianapolis! I'm home visiting with my fam and just came back from Super Bowl Village. What a rush to see that many people packed into lil' ole Indianapolis. I'm quite proud of my hometown for hosting in such great style. So, I guess you could say I'm into the Super Bowl and football for at least the weekend. I'm really enjoying all the hoop-la! Here's me, my mom and sis at Super Bowl Village: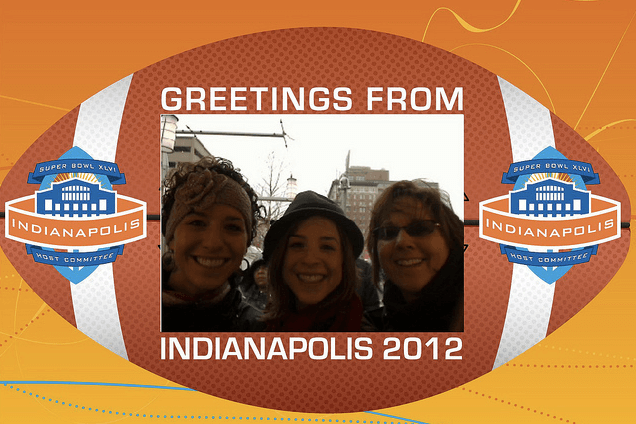 So, I'm a little bit pumped and am even having a little party tomorrow with Matt and my fam. We're cooking up some Appetizing Appetizers and I thought I'd share one that we find quite succulent. I'm not normally a huge shrimp fan, but this one's done well and I really enjoy it. Its garlicy, buttery and grilled…yep, even in the chilly weather we grill. This one is super easy (recipe looks longer than it actually is) and tastes like you really worked at it. Hope you enjoy!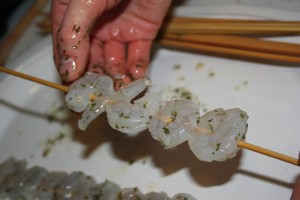 Shrimp Skewers Ingredients:
1/4 cup olive oil
1/4 cup lemon juice
3 tablespoons chopped fresh parsley, I use dried
1 tablespoon minced garlic
Ground black pepper to taste
1 1/2 pounds fresh medium shrimp, peeled and deveined
Red pepper flakes (optional)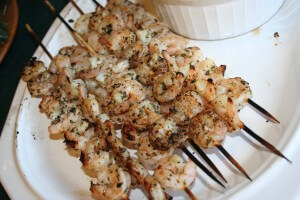 Shrimp Skewers Directions:
1. In a large, non reactive bowl stir together the olive oil, lemon juice, parsley, garlic and black pepper. Add the crushed red pepper flakes if you want a little kick.
2. Add shrimp to the mixture and toss to coat. Let the mixture marinate in the fridge for 30 minutes.
3. Preheat grill to high heat. Skewer shrimps on wood skewers that have been soaked in water for at least half an hour. (Skewer the shrimp, threading the skewer once through the tail end and once through the head end). Discard remaining mixture.
4. Lightly grease the grill. Grill the shrimp skewers 2 to 3 minutes per side or until they turn opaque.
Buttery Garlic Dipping Sauce Ingredients:
2 tablespoons lemon juice
2 tablespoons water
1 tablespoon garlic, finely minced
8 tablespoons cold butter
2 tablespoons minced chives
Buttery Garlic Dipping Sauce Directions:
1. In a small sauce pan add garlic, lemon juice and water. Bring liquid to a boil.
2. Add butter (cut into several pieces) into boiling liquid.
3. Add chives and serve alongside Grilled Shrimp Skewers. Enjoy!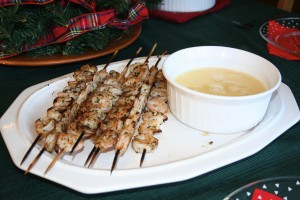 *Recipe Serves: 4 to 6 people
*Recipe Source: http://allrecipes.com/recipe/grilled-shrimp-scampi/detail.aspx