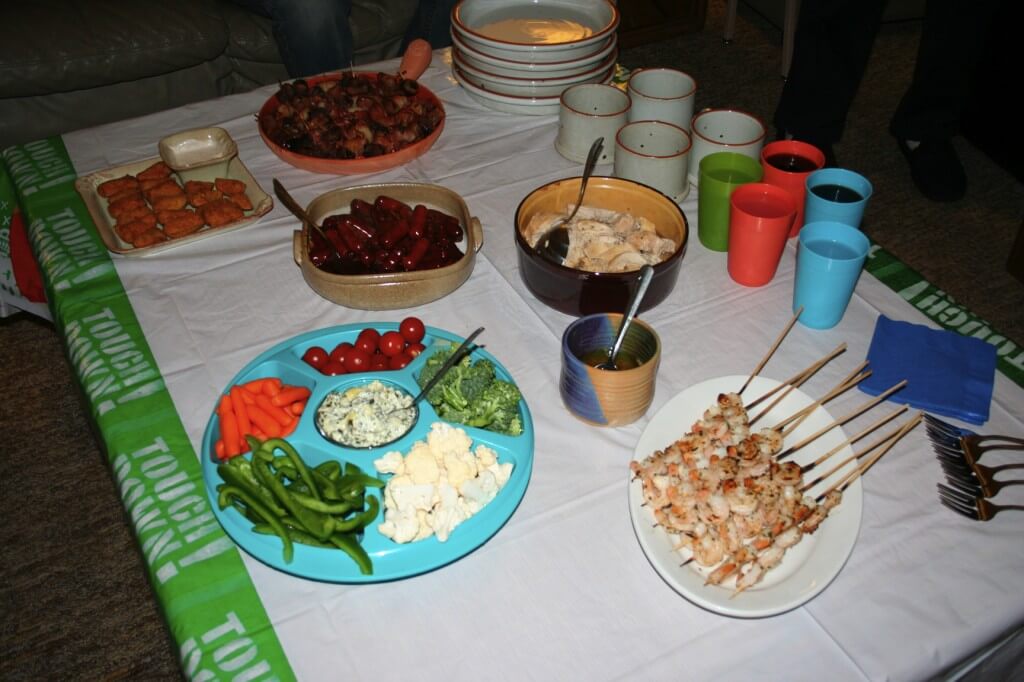 Got to say over the last couple weeks there were many occasions where I sat at my computer to blog and got completely distracted by what Matt now calls my version of video games, Pinterest! Ladies you know what I'm talking about guys and video games…when your guy picks up that video game controller its like he gets totally wrapped into the video game world. Well, Pinterest has totally wrapped me in. So, forcing myself today to blog first and then Pinterest. Glad I got that confession off my chest now. (And by the way if you haven't heard of Pinterest you're completely missing out, so Google it and check it out).
Anyway, my Superbowl party a few weeks ago was a blast! Just me, Matt and the fam, but we really had quite a Super Spread. Check out the photo above. We made our Superbowl Appetizers our dinner. We served everything on a giant, low coffee table in front of the TV. No fru fru cut glass serving ware, as my mom called it. This spread definitely had a masculine touch as seen by the heavy serving ware and the mass amounts of meat. Just thought I'd share the spread with you: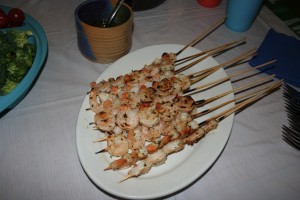 First are the Buttery, Garlic Grilled Shrimp Skewers (recipe shared in last post). Count it type of meat #1.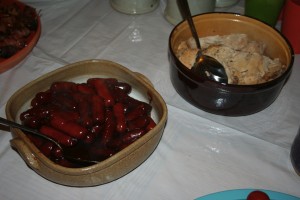 Next was the miniature hotdogs in BBQ sauce (required by and made by Matt) and the slowcooker chicken breast in Italian Dressing made by my dad (Papa G). Count it types of meat #2 and #3.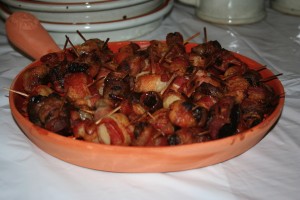 Wrapping up the last meat dish: there were the Bacon Wrapped Dates (recipe featured 2 posts ago), but this time I made half Bacon Wrapped Dates and half Bacon Wrapped Water Chestnuts. This made a great contrast of salt, sweet, and crunchy! Count it type of meat #4. Yep, four varieties of meat…and we all enjoyed it!
And the whole Spread was balanced out with a veggie tray and Artichoke Dip (which I can't eat, unfortunately, but I did load up on veggies).
Last, but not least were the fried pickles…yep, fried pickles (seen on the edge of the table below). These are allergen free and have a special story so that will be for another post to come. Hope this may give you some ideas for your next party!