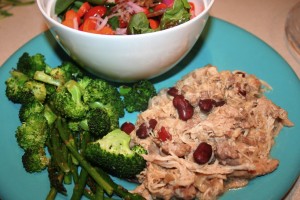 Because its still freezing cold around much of the country today, I thought I'd share a warm, hearty slow cooker recipe with you. I served this Slow Cooker Chicken with Italian Sausage with oven roasted broccoli and asparagus and a side salad. It makes great left overs too. Talk about comfort food on a restricted diet…well, here you go!
Ingredients:
10 oz. mild or hot Italian Sausage (GF), casings removed
5 or 6 boneless skinless chicken thighs
1 can (15 oz.) great northern beans, rinsed and drained
1 can (15 oz.) kidney beans, rinsed and drained
1 cup (GF) chicken broth
1 medium onion, chopped
1 teaspoon black pepper
1/2 teaspoon salt
Chopped fresh parsley (serve on top)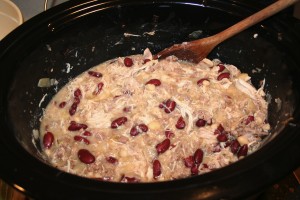 Directions:
1. Brown sausage in large skillet over medium-high heat, stirring to separate; drain fat. Spoon into slow cooker.
2. Trim fat from chicken. Place chicken, beans, broth, onion, pepper and salt in slow cooker. Cover; cook on LOW 5 to 6 hours.
3. Adjust seasonings, if desired. Chicken should be tender and fall apart as you stir (I like it to a shredded consistency). Garnish with parsley as desired.
* Recipe Source: Rival Crock Pot Slow Cooker Recipes