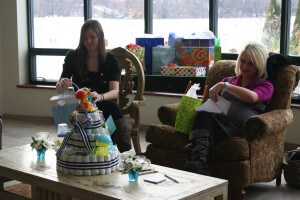 Earlier this week I featured a diaper cake that I made for a baby shower I helped throw last weekend. I feel like I keep running across more and more pregnant ladies due this Spring. So, I thought you may enjoy seeing some of the details for this Baby Shower to give you some ideas for a Baby Shower you may be throwing in the near future! No paper streamers or heavily frosted cakes here…Check it out!
Above you can see the diaper cake as a decoration on the central coffee table.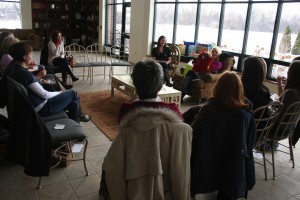 I loved this chair layout for the Baby Shower. The mom-to-be got a big comfy chair to sit in with all the ladies' chairs surrounding, so they could easily see the gift opening. The coffee table and rug in the center helped the space to feel more intimate, anchoring all the seats into one seating area.
Forget the plastic cups and plates, we used a classic cut glass punch bowl and traditional punch glasses. We (the four of us who threw the shower) decided we had these great items at our disposal and didn't mind washing dishes if it meant using these beautiful pieces. Back to the classic entertaining pieces…yeahhh!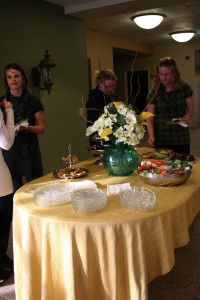 We really used minimal decor for the Baby Shower, but it really turned out beautiful. Since Cheri, the mom-to-be, is having a boy and her nursery theme is nautical, we tied all the decor at the shower together with a color palette that reflects that: Blue (more turquoise), Yellows, and White.
Above you can see the food table with a simple yellowish gold linen and a large turquoise vase filled with flowers in yellows and white with large winding stems to give it a little earthy flair.
Because we kept the food really simple we used varying height stands and trays for displaying the food to giving the table a rich appeal. We kept the food really simple with fresh fruits and a veggie tray with 3 different kinds of hummus, 2 trays of miniature quiches, and brownie and cookie bars. No heavily frosted cake here…every shower I've been to, it never seems to really get eaten (ladies seem to not like the heavy icing).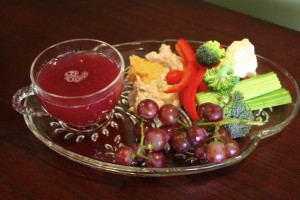 We had the privilege of using the beautiful traditional appetizer plates that have a ring to hold the punch glasses. They're not only beautiful, but so practical. They allow you to hold your plate of food and punch glass with one hand, while chatting and eating at the same time. Love these!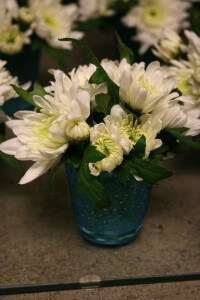 I love using what I have and Re-Purpose It in order to decorate. These little turquoise vases are actually votive candle holders. I just loved the color and thought they'd be perfect for the event. So, I purchased one bunch of simple white fresh flowers and cut them to fit in these little "vases." We set these little arrangements around on some taller bistro tables and next to the diaper cake on the coffee table. They're small, but really added a pop!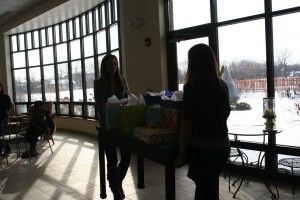 As a host of a shower I think its important to have a clearly designated space for people to put their gifts for the mom-to-be. I think the best way to designate the gift drop spot is to place a table near where the guests will enter and designate "this is where gifts go" by simply placing one gift there. People will get the idea and then you won't have to answer 20 questions of "where should I put my gift." We just simply moved the table to the gathering area when it was time to open gifts.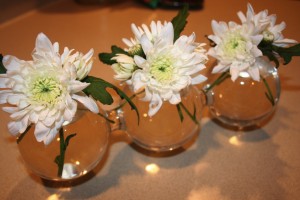 This Baby Shower was a great time. I hope you feel inspired for your next event to think beyond the paper streamers and heavily frosted cakes! Let your creative mind run wild!
The mom-to-be and each of us hosting got to take home a small bunch of flowers from the shower to put into bud vases at home. I put mine in this beautiful bud vase that was a wedding gift from my sis. Its been really nice to have fresh flowers in my home this week…A preview of Spring!